I just now sat down at my computer this Sunday morning and saw a "promoted post" for a Starbucks #CottonCandy Frappuccino!
Starbucks has essentially brought to life the "Secret Menu."  The "Cotton Candy" Frappuccino is now a Vanilla Bean Frappuccino with raspberry syrup.  The promoted post means that Starbucks is paying to advertise it as such!
Let me be totally honest here.  I have never understood why people want a cool name to go with their drink – as if it makes it better to order.  Right now, Seattle's Best Coffee offers a "Smores" Frozen beverage.  While it's delicious, it doesn't taste anything like the smores I made with my family as a kid!  People love the idea of a "Smores" drink or "Cotton Candy Frappuccino" or an "Apple Pie Frappuccino."  I guess for most people it's easier to order than "I'd like a Vanilla Bean Frappuccino with apple juice, cinnamon dulce syrup, and caramel syrup, topped with caramel drizzle and the cinnamon dulce sprinkles."  (By the way, last year, a few international Starbucks markets actually did receive an official "Apple Crumble" Frappuccino beverage which came with a crumbly topping and drizzled with caramel sauce.)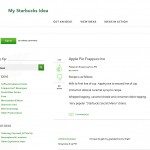 At the end of the day, I think the people who wanted a "Secret Menu" got their wish!  On Twitter, the official Frappuccino profile is promoting these recipes with cute names!  I suppose it is easier for customers to order it like that.  The only risk is that it will cause confusion for baristas who don't know a "secret menu" recipe for that beverage.  What "secret" recipe should they promote next? 😉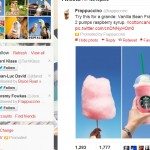 Related posts
Socialize

Subscribe
Join the StarbucksMelody.com mailing list to receive a weekly email with new posts.
Recent Comments