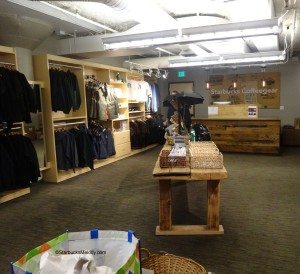 The Starbucks Coffee Gear store is located on the 8th floor of 2401 Utah Avenue South, Seattle, Washington, 98134.  That is the Starbucks headquarters.  The Coffee Gear Store is open to the public!  Anyone can go shopping there!  The merchandise offered changes often, and so over the years I've produced this blog, I've revisited the store many times.  If you are a Starbucks partner, you can purchase the store's gear online at StarbucksCoffeeGear.com.
The store's hours are normal business hours, Monday through Friday.  I dropped by on Friday, December 20th.  It had been a while since I had visited.  There were a number of new items plus a number of standard favorites, such as key chains, pens, and magnets.  You can take a look at my old articles on the Coffee Gear Store here.
Some of the new items now available at the store are new mouse pads, a new vest, a soccer ball, and new journals.  You can buy an umbrella with the word Starbucks on it, as well as water bottles, baby bibs, and little baby caps.
Check back here at StarbucksMelody.com on Christmas Day for a giveaway, sponsored by the Coffee Gear Store!
Take a look at the fun logo stuff!  I hope that someday you get the chance to visit this store.  I do know that I've had a number readers tell me that they made a point of visiting this store while on vacation in Seattle.
By the way, if you're enjoying this blog's articles, I hope you'll take a moment and subscribe.  There is a box in the right-hand side column of this blog to enter your email address.  You'll then get every article emailed to you.  Also, please do click "like" also.  The blog's Facebook page is quite a bit different than the blog in that I post a lot of photos from my day to day Starbucks visits – those pics almost never make it here to the blog.  Thank you.
Related posts