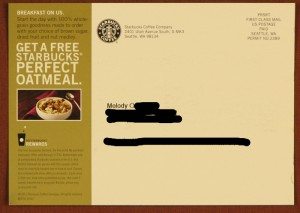 The most recent coupon sent to Gold Card holders by My Starbucks Rewards is a coupon for free oatmeal.  Who here got this one?  Do you like the oatmeal?  As usual, when the Starbucks Card sends out rewards, I catalog it here.  As to the oatmeal, I especially like it with a pump of gingerbread sauce in it, but that is no longer available.  I tried dark cherry syrup in it, and that was good too, but also is no longer available.  The pumpkin spice syrup overpowers the oatmeal.
There have been a number of My Starbucks Rewards coupons so far.  Which has been your favorite?
Here are blog posts on the previous coupons:
Just checking in with my readers … are you getting these coupons and what do you think?  The oatmeal is already one of my favorite breakfast items so I really like this coupon!
For those people reading this who are confused, you can start getting perks and rewards from Starbucks by registering your Starbucks card, loading it with money, and using it to pay for your purchases.  After you use your card just five times, you will already be at the "green" level of rewards which entitles you to some wonderful perks.  At the "green" level, there is no charge when the customer substitutes soy milk or breve milk in a beverage.  Also at the green level, standard syrups are free of charge;  this means that your vanilla latte would be the same price as an unflavored latte. If you are buying a pound of whole bean coffee, and paying with your loaded registered card, you can get ANY tall beverage free with your purchase, when your card is "green" level or higher.  This means that if you are buying a pound of Verona to take home, and you want to buy a tall mocha Frappuccino in the same transaction, then the Frappuccino will be free.  The register does all the work, and automatically takes off the price of the Frappuccino, assuming you're at the "green" level, paying with the Starbucks card, and buying a pound of coffee.
One swipe of the card at the register equals one "star."  As I've mentioned already, after earning five "stars" the card is at the "green" level.  When the Starbucks.com/card account associated with that card has earned thirty "stars" the person is now at the "gold" level of perks.
I wrote a blog article about the four common pitfalls of My Starbucks Rewards, and although that blog article is now almost a year old, I still think it is worth reading.  I find that there are still aspects to the My Starbucks Rewards that can be confusing to both partners and customers, so here is a short discussion of a few pitfalls:
Now it's your turn.  If you got this coupon, please say so, and let us know how often you're using your card.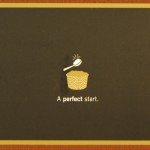 Related posts