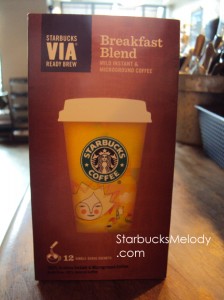 Today (July 25, 2011) I tried Breakfast Blend Via Ready Brew for the first time.  This is the newest entry in the current lineup of Via Ready Brew offerings, which already includes  Colombia, Italian Roast, Iced Via, a promotional Iced Caramel Via Ready Brew, and other flavored Vias.  To date, I think the "Tribute Blend" promotional Via Ready Brew offering has been my favorite one.  I tasted the Via using the "cupping" method of tasting and comparing coffees.  It would take me a whole blog post to describe exactly what a coffee "cupping" is, so rather than re-write that here, if you need a refresher about "cuppings," take a look at this article:
An introduction to a coffee cupping – Arabian Mocha Sanani
I dropped by 15th Avenue Coffee and Tea Starbucks today, and tried out the coffees with a very knowledgeable partner there.  She prepared some Breakfast Blend whole bean to be cupped side by side with Breakfast Blend Via Ready Brew.  For a little more comparison, towards the end we also compared the Italian Roast Via Ready brew with the two Breakfast Blends.
Before I talk further about the Via, I have to comment again that I still think this is a beautiful store.  It has been open about two years, and still strikes me as very unique and visually interesting to look at.  Here are a few store photos that I took today:
The friendly barista Amanda prepared the whole bean coffee and set up the cupping table: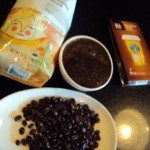 After about three to four minutes of brewing the whole bean Breakfast Blend, Amanda removed the crust so that it can be "slurped" for tasting: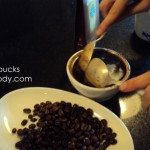 We were joined by "Matty" who is a partner at another store who happened to drop by this store: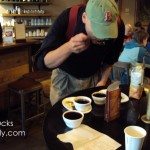 We discussed what we were tasting, and we all agreed that the whole bean coffee was the best.  The two Breakfast Blends were definitely the same blend and shared a similar thin-bodied mouth-feel, and some of the same tasting notes, but the Via was a less complex coffee.  Both Breakfast Blends had the characteristic hints of banana in them and a fresh flavor (the whole bean coffee was almost juicy to me), though the Via seemed to have a slightly salty finish to it.  At the end we threw in the Italian Roast to compare and the difference was dramatic.  Italian Roast Via tastes very roasty.  It is heavier in the mouth and has a greater flavor of the roast profile than the Breakfast Blend.
Overall I thought the Breakfast Blend Via was pretty good.  Maybe it wasn't an "A+" but it was a solid "B."  You could taste that it was the quintessential lighter breakfast profile, and it had some Latin American origin flavors.  Right now, the Breakfast Blend Via is a UK and Ireland Via offering only.
And when we were all done, here is what the cupping table looked like: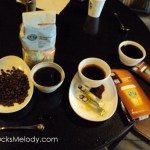 What do you think?  By the way, I think I heard somewhere that Starbucks will be discontinuing the Cinnamon Spice flavor Via.  Apparently it didn't sell well.
Speaking of changes in the Via lineup, in the Q3 quarterly conference call on July 28, 2011, Howard Schultz mentioned that both Breakfast Blend Via and House Blend Via would be coming "in the Fall."  I haven't tried the House Blend Via yet, but as soon as I get the chance to try that, I'll share that here too. So coming soon – Breakfast Blend and House Blend!
If you liked this article, I also suggest that you read the previous article about Italian Roast Via Ready Brew Now Offered in a Jar in the UK.
Related posts