Portland's first shipping container Starbucks is now open.
Melody, September 25, 2013
21
1 min

read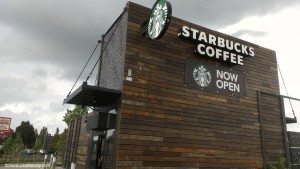 Starbucks opened its first "shipping container" Starbucks in Portland, Oregon on September 18, 2013.  This is only the second "shipping container" store that I have been to.  These compact drive thru locations are literally built from used shipping containers.  It makes for a unique style, and very worth taking a few pictures of!  From what I can see, all the shipping container Starbucks stores have both a drive thru, as well as a walk up window too, and then some kind of patio seating.
The first "shipping container" Starbucks opened up on December 13, 2011, just outside of Seattle.
Starbucks also opened a shipping container Starbucks in Denver, in October last year.  As I understand it, there currently is a shipping container Starbucks under construction in Chicago.  And, I thought I had heard gossip about shipping container Starbucks in Virginia Beach, as well as Kansas City.
The new Portland shipping container Starbucks is located at 122nd and Halsey.  The exact address is 1510 NE 122nd, Portland, Oregon.  The phone number is (503) 253 – 3576.
I hope you get to drop by and check it out.  I just wanted to share a few photos that I took today! (I took all these photos on Saturday, September 21, 2013, and as always, do not use without permission.)
What do you think of these new shipping container concept stores?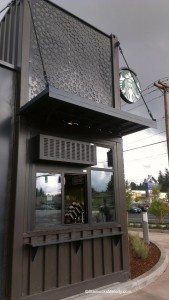 Related posts