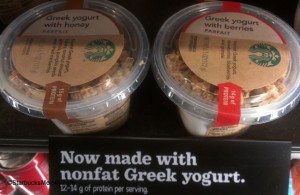 Starbucks just recently introduced new yogurt into their refrigerated cold case.  Over this summer, Starbucks announced that it would be partnering with Danone (which the parent company of Dannon yogurt) to introduce Danone products into their stores.  Already, two Dannon Greek yogurts have appeared in stores.  The two new yogurt flavors are as follows:
Greek yogurt with honey
Greek yogurt with berries parfait
I rarely bought the yogurts that these two new ones replaced, so it's very hard for me to offer much of any comparing and contrasting.  Perhaps I'm not a huge yogurt eater!  I tried both in order to be able to write about them here.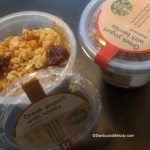 My favorite of the two new yogurts was the Greek yogurt with berries.  There was a very generous portion of granola (my understanding is that the granola is the same as before), and I liked the berries mixed in.  I'm a terrible reviewer of yogurt.  I just don't eat much of it.  In real life, my personal favorite yogurt brand, by far, is the Wallaby Organic Yogurt brand!  It's not too thick or too sweet, and it's still very creamy and delicious.  In fact, the Wallaby yogurt is the only brand of yogurt that I buy at the grocery.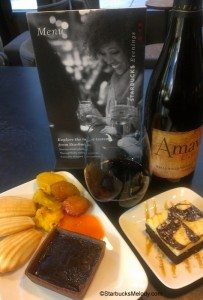 If you have an "Evenings Starbucks" near you, the desserts have been through a small change, and there is a new wine offering – Amavi Syrah wine.   For one of the Evenings desserts, the partners use the cream cheese brownie, drizzle it with caramel sauce, and a salt topping.  This is incredibly rich and delicious – much more my style than Greek yogurt! 😉  The chocolate fondue offering now has some dried fruits with it too.
I guess I should forewarn you that I thought that the Amavi wine was a little expensive.  It's about $50 a bottle, or $14 a glass of wine.  I don't know much of anything about wine, so maybe that's normal, but since I don't really enjoy alcohol, it's not how I would normally choose to spend my money.
Both desserts, however, were amazing.  As always, I love the chocolate fondue, and it's perfect to dip the Madeleines in.
Hope you liked this quick food update.
Last but not least, in my humble opinion, the unsung hero of the La Boulange lineup is the chocolate meringue cookie – amazing!  I dropped by the Terry and Republican Starbucks to try these new items – if you are in Seattle, this is a really beautiful store to go visit.  I highly recommend that you visit my previous article on the Terry and Republican Starbucks.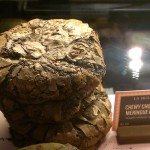 If you get a chance to visit the Terry and Republican Starbucks, check out the chalkboard art. This store always has great art!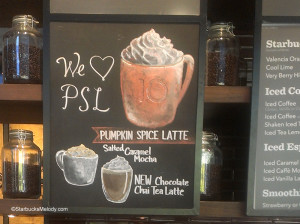 Related posts