Ballard to get a new Starbucks soon:
A Starbucks "Coming Soon" sign has been spotted in Ballard (a neighborhood of Seattle)!  My unofficial sources say that this will be a drive-through only shipping container Starbucks (with a walk up window), and should open sometime in January 2014.  Some may remember that just this past October, Starbucks opened a shipping container store in Chicago.  The new Ballard location is at the corner of 15th NW and 53rd, and for more than fifty years was a used car lot.  The sign that says "Carter Motors" still hangs, and says "since 1960."  I imagine that a new store on this site will be hugely popular in the morning.  Fifteenth Street NW is a major thoroughfare, and in the mornings is used by many commuters as a way into downtown Seattle, avoiding I-5.  I took these photos on Saturday the 7th – Looking forward to another shipping container store!
Made in the USA mugs (new Hawaii and Ohio state mugs):
A little more than one year ago, Starbucks partnered with American Mug and Stein, in East Liverpool, Ohio to sell "Indivisible" mugs – obviously made in Ohio.  Long after the Indivisible mugs were no longer sold in stores, Starbucks continued partnering with American Mug and Stein for a special mug made exclusively for 1912 Pike Place.  This mug here is made by American Mug and Stein, and sold at 1912 Pike Place: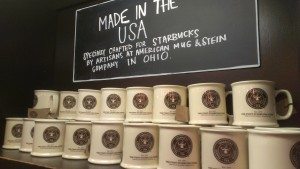 In case you don't recall the "Indivisible" mug, it looked like this: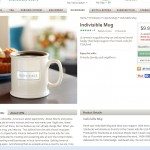 Just recently, Starbucks launched two new made in the USA mugs, also made in Ohio.  The new mugs are location icon mugs – one is an Ohio mug, and the other is a Hawaii mug.  Interestingly, they appear to be made by a different company than the above Pike Place mugs (which is in continuous production).  American Pioneer Manufacturing produces the Ohio mug and Hawaii icon mugs.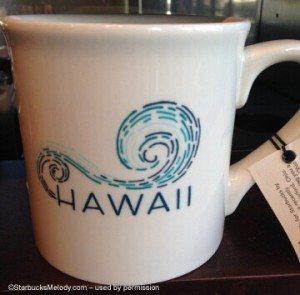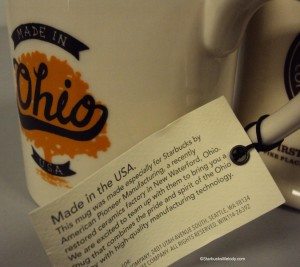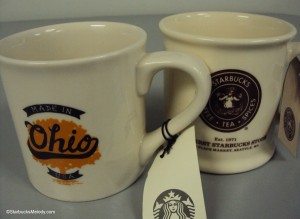 What do you think? I'd love to see more than just Hawaii and Ohio for this new series of mugs!  (If you know of more in this series, please let me know).
Related posts