Gold Card Status Tragedy.
Melody, January 7, 2014
6
1 min

read
It's that time of year.  Starbucks sends out lovely emails telling people they've made it to another year of Gold card status!  When I got mine in the an email form, I had to actually wonder for a second if I had earned 30 stars between January 1st and January 6th?  Sure it's possible.  Bonus star promotions always double the star fun.  And it is true, I walk out my front door and there are about 30 Starbucks (and one Teavana, one Evolution Fresh, and one Roy Street) all within a two mile radius of home. 30 Stars. 30 Starbucks. Coincidence? I think not.
Oh but I felt a heartache and pain for Ms. Alena.  She lost her Gold Card status.
http://alenadillon.com/2014/01/06/on-losing-my-starbucks-gold-card-status/
There was nothing I could do for poor Alena.  I was pretty sure that I had managed to average about 90 stars a month last year.  My hands were tied though.  I could see no way on Starbucks.com to donate some of my massive Star-Wealth to Ms. Alena.  I thought, there must be some other way? No? I looked at the idea of YouCaring.com but alas, that appears to deal in real money, and not Stars!
Dear Alena. I write this in response to you. I can only hope that next year you'll receive such a cheery and comforting email as this one: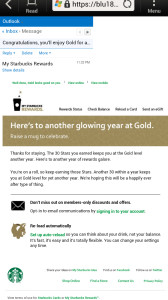 Until then, I shall mourn for you.
/Tongue in Cheek
(Written for Alena Dillon)
Related posts