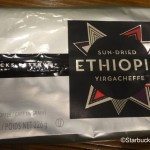 Arriving in Reserve – Clover stores on January 21, 2014, the Sun Dried Ethiopia Yirgacheffe will be loved.  This is a great coffee.  It's the kind of coffee that reminds me why I really love coffee.  You smell the beans and you're hit with a cherry bomb aroma.  Made by any means, it will be wonderful.  It's bold, and full in mouth-feel, and delivers an amazing Bing cherry and berries flavor, derived from the magic of its growing region, and the magic of sun-dried (or "natural processed") coffee.
I arrived for a special sneak peek tasting at the newest University Village Starbucks location: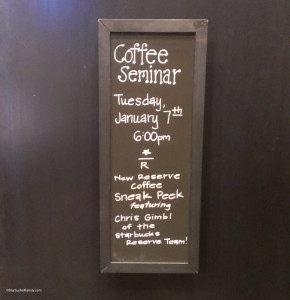 Chris Gimbl, a partner in the coffee department at the Starbucks corporate headquarters, lead tonight's event.  Starbucks bought 40,000 pounds of green coffee beans from several hundred small coffee farmers all in Southern Ethiopia.  A natural processed coffee is laid out in the sunshine to dry – often on raised drying beds.  This process of drying beans in the sunshine is a delicate process because the coffee cherries can easily experience fermentation, ruining the lot.  The outside cherry of the coffee constricts like a raisin, and when it is dried, it is removed from the actual bean.  Chris brought a photo of what the drying beds look like – so what you're seeing here is my photo of his photo.  Hope the quality is still reasonable: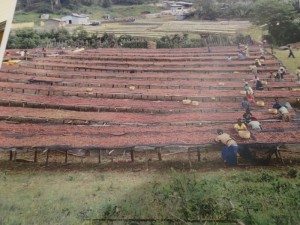 This coffee will be distributed to the roughly 675 Reserve – Clover Starbucks locations located in the US and Canada.
This article here is just a quick sneak peek of what's to come.  Make sure you try this one.  Tonight's coffee was made by a French press and, as always, poured into little sample cups: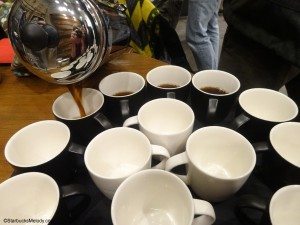 Anyone who knows me knows that I can't resist a good tasting/smelling coffee moment: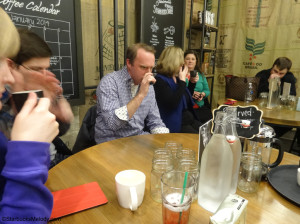 The coffee beans are darkly roasted, and interestingly, they're kind of small in size: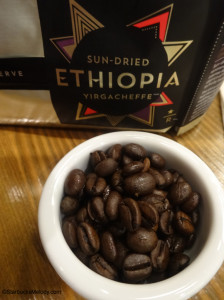 And a beautiful cup of this coffee looks like this: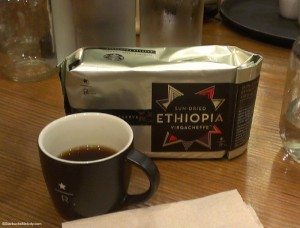 I hope you try this coffee! That's about all I can say. I know that I am genuinely head over heels for this Reserve. The best ever.
Related posts