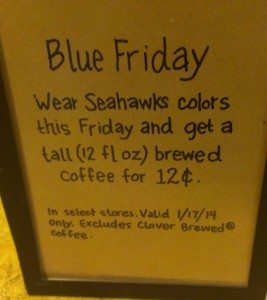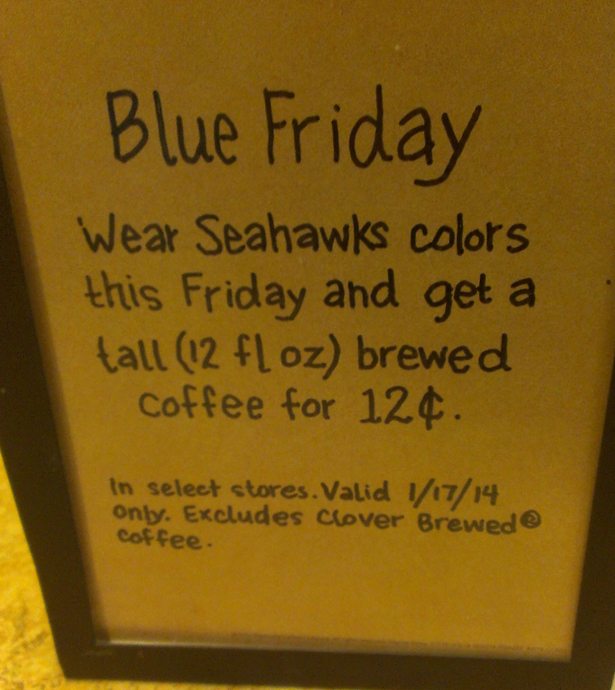 Tomorrow, January 17th, would be a great day to wear blue and green and Seattle Seahawks gear!  If you're dressed in Seahawks colors tomorrow, you can buy a Tall (12 ounce size) brewed coffee of the day for just 12 cents at your local participating Starbucks!  This offer is good across about 400 Washington State Starbucks locations.  It is "Blue Friday" in Seattle!
Here's the official announcement:  While the Seattle Seahawks have home-field advantage for Sunday's NFC Championship Game, their fans have home-state advantage in more than 400 Starbucks stores across Washington! To celebrate the spirit of 12's everywhere, as we all rally together in support of our home team, Starbucks is offering a tall brewed coffee for 12 cents to any customers wearing Seahawks colors on "Blue Friday" at company operated stores and participating licensed stores in WA. Starbucks partners (employees) will join in the fun by wearing Seahawks colors all day.
I also heard from our friends who run the Starbucks Coffee Gear Store (there is only one such store – it's open to the public and on the 8th floor of 2401 Utah Avenue South, Seattle, WA 98134), and customers who are in Seahawks gear or colors will get 12% off any one item.  If you've been meaning to drop by the Coffee Gear Store, tomorrow would be a great day to do so and be sure to wear your Seahawks gear and colors!
Enjoy your 12 cents coffee fellow Washingtonians and Seahawks fans!
(This offer does not include Clover-brewed coffee).
Related posts