Yesterday was the Seattle Seahawks Parade Day in downtown Seattle.  Hundreds of thousands of people poured into downtown Seattle.  It was an incredible sight!  The parade route ran along Fourth Avenue for most it, then turned west from Fourth, heading west on South Washington.
At about eight in the morning, I stopped into the Fourth and Seneca Starbucks on my way into work.  The entire time I was there, the line stayed at least to 20 to 30+ customers deep.  It was incredible!  I took a picture of the line because it was such a sight to see!  I heard from one of the store's partner that the store had sustained lines of at least 20+ people deep for about four hours, and then when the parade actually headed down Fourth, the line began to thin out as people went outside to see it.  The partner I talked to said she'd never seen anything like it in all her years as a partner.
I took two panorama style photos with my camera.  I just want to show you how packed this store was!


I think that store's partners deserve a congrats for being able to manage that so well!  My own experience was that from the time that I got in the line, and then actually got my latte, I think was about fifteen to twenty minutes.  That's pretty amazing considering how busy it was.
At 11:30 a.m. yesterday, I snapped this photo of people pouring into the area of Fourth and Washington: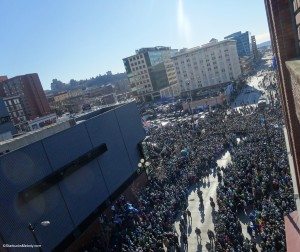 I heard from other downtown Seattle partners that pretty much every single store was packed with people!  I just wanted to capture and mention those record lines! Congrats to all the downtown Seattle Starbucks partners yesterday who dealt with one very amazing day.  (The estimates were that between 200,000 and 500,000 would pour into downtown for the victory parade!)
Related posts