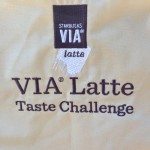 For the past few days, Starbucks has been inviting customers to try their new Via – the latte Vias with dairy.  It was the The Via Latte Taste Challenge (from January 16th through the 19th) for the two new Via Ready Brews:  Mocha Latte Via and Vanilla Latte Via.  There has been sampling going on, and many customers received a coupon for $1 off a handcrafted beverage.  These kind of sampling/challenge events are pretty fun!
On the 16th, I dropped by the 6th and Union Starbucks in the morning, and saw that Ron was sampling the new Latte Vias:
I pretty quickly got an email from a partner named Patsy, who shared with me her sampling pic from a Starbucks in McDonough, Georgia.  Patsy has been reading this blog and emailing me now and then since this blog was brand new in September 2009!  She is a long-term partner and so passionate about Starbucks: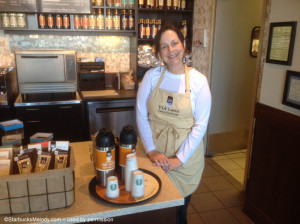 Nicole in Florida wanted to share her sampling pic too:
This Via Latte sampling photo,sent in by a Starbucks partner in Reno, is just too cute.  I have been assured that the adorable child in an apron wasn't really doing the sampling – though maybe that's in her future? 🙂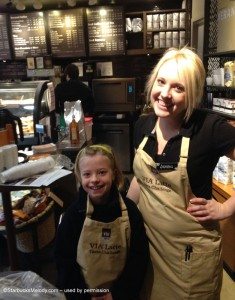 Brooke in Silverdale, Washington did the Via Challenge sampling for her store.  I've met her in real life, and I'm quite a fan of Brooke!  Sometimes I have to take special trips out to Silverdale just to visit a couple of the partners at this store!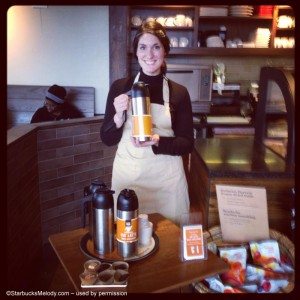 A shift supervisor in Burlington, Massachusetts sent in this great photo.  I have been to this store, and I know that they work very hard to create great experiences: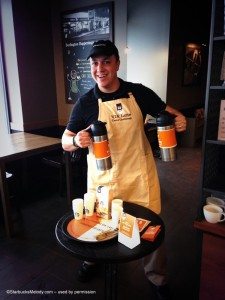 I got this pic from Morgan in Virginia, and I love what she wrote to me: "I've been with the company for 5 years and it gets better every year." That says it all!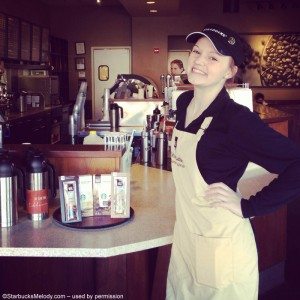 Representing Danbury, Connecticut, I got this photo emailed to me: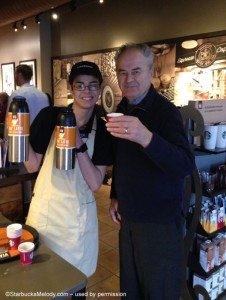 From Montvale, New Jersey, I this picture was emailed to me! They are ready for customers to try the new Via Lattes!'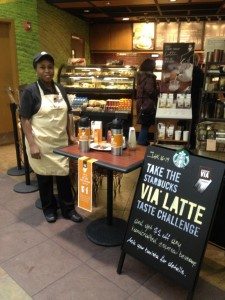 Related posts