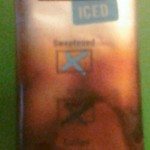 I've been talking about Iced Via by Starbucks for a whole month. This is not the same thing as the current versions of Via Ready Brew available at  your local Starbucks store or local Costco and grocery store.  Iced Via is a pre-sweetened version, designed to be consumed cold, dissolving easily.  Each individual packet is described as "lightly sweetened" and I have heard gossip that this translates into 22 grams of sugar per packet. The single serving packet is designed to be mixed with 16 ounces of water.
More gossip, so I hear, is that this actually will start to sell in the stores some time in early July, though it is arriving now in stores for partners to try.  Apparently it just arrives in the normal roasting plant order.
To be honest, I haven't tried this new product though I've been very aware of it for some time.  I think there could have been fun opportunities for Starbucks to do tasting events centered around Iced Via Ready Brew, but if there were such things (only in my wild imagination) I am unaware of it.  I have heard of a few isolated packets of this product making its way into non-partner hands, though I am not so lucky.
I think I read one partner describe the product's appearance as looking like 'salt and pepper' inside the packet since the coffee is dark, and the sugar is obviously white.
I'm hoping some of my readers have tried it and can weigh in on it.  Also, I slightly wonder what kind of volume Starbucks expects to sell.  When Via was launched, there had been quite a push to sell a large volume of the product. If Seattle's summer doesn't finally warm up soon, I'll be sticking with a nice hot cup of coffee. May's weather has been down right dreary for the most part.  Iced coffee doesn't even sound very good right now.  And there is still the real question of whether we'll be seeing baristas wearing Iced Via earrings!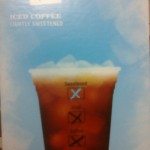 *************************
Update on May 30, 2010:
I finally got my hands on one single packet of Iced Via to try. Here's my report:  The partner who said to me, "This is Seattle's answer to the South's sweet tea" nailed it. It's exactly what sweet tea would be when it grows up to be coffee. It is sweet, but not too sweet for me, and it is refreshing. It dissolves really well! I love it!  I will definitely buy this in July, when it's annoyingly hot, and complaining that at 80 degrees, I can't stand it, and want to die.  By July I'll be begging for 60 degrees to come back to Seattle, as it is today. The photos from today's taste test (sorry the quality is poor, I used my cell phone) –
Related posts
Socialize

Subscribe
Join the StarbucksMelody.com mailing list to receive a weekly email with new posts.