Brand new chocolates: Starbucks Via Ready Brew dark chocolate bars!
Melody, November 14, 2010
47
2 min

read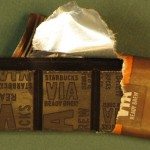 Starting November 16, 2010, Starbucks will be selling some new chocolates in their stores!  The twist is that the new chocolate bar has Via Ready Brew in it! Wow!
Previously I had guessed that this chocolate bars were produced by TCHO chocolates since Starbucks does have an existing partnership with them.  I have been told that is incorrect and that the dark chocolate is actually produced by Santander Chocolates.
The dark chocolate bars are delicious.  They're very rich and a small bite goes a long way.  Have some milk or coffee ready to go with your chocolate bar. 😉 Notice that the chocolate itself has the words "Via Ready Brew" embossed into the chocolate square.  I thought that was very clever.  I tried the new chocolates with my friend Molly of Seattle Custom Framing.  I said to her, that although it was good, I wanted a stronger coffee flavor.  She quipped at me, "Melody it is supposed to be coffee-flavored chocolate, not chocolate-flavored coffee."
The new dark chocolate bars have been on sale for a while in Philadelphia.  (I have no clue why that city got to sell them early).  I had more than one person ping me on twitter alerting me to the fact that these new chocolate bars were being sold, and the customers who found these bars all happened to be in Philadelphia.  In fact, the chocolate bars shown in these photos were mailed to me from there!
I haven't talked about chocolates much on this blog but I previously mentioned some of Starbucks' chocolate offerings several months ago, suggesting that they would pair well with Verona coffee.  Here is that prior blog post:
These new Via Ready Brew chocolate bars retail for $1.75 each.  The dark chocolate bars are a delicious treat.  Up next … Dear Starbucks can we have a milk chocolate version with Via Ready Brew in it? Thanks! Melody.
What do you think?
[[Edit on November 15, 2010 – I edited the paragraph about who made the chocolates.  Previously I listed TCHO but the correct information, I am now told (through Twitter contacts) is Santander.]]
Related posts