A Star Dash is an invite from Starbucks to earn something extra from Starbucks based upon earning stars within a specified time period.  All of the Starbucks Star Dashes represent one-to-one marketing, meaning that they are tailored to the person who receives them.  How many stars you need to earn in the dash is based upon your past transaction history.
Now is the time to sign up for the first Star Dash of 2014.  Many customers will have received a Star Dash invite – if you use the Android phone app, you won't see it there.  You'll need to log in your profile at Starbucks.com.  Log in to your account and check what you have waiting there!  You don't want to miss any of your rewards either – I have heard all kinds of stories of people simply not realizing they had digital rewards.  You must affirmatively track your own rewards.  No barista will ever say, "Surprise, you have a reward!"
Back on the topic of the Star Dash, here's what the first Star Dash of 2014 looked like for me: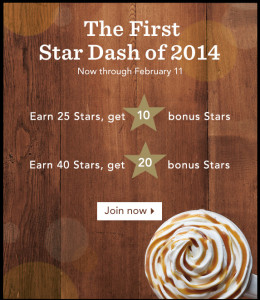 If I earn 40 stars by February 11th, I will get 20 bonus stars.  Please do not be alarmed in reading this.  YOUR Star Dash may not look like this at all!  Some people will get emails that tell them that they'll earn bonus stars if they earn as few as 8, or 12 stars before the 11th of February.  Some of the emails may show the rewards as a $5.00 and $10.00 gift card, depending on what yours looks like!  Do not assume that your Star Dash will look like mine.  I have heard that there is a lot of variation to this first Star Dash – yours is tailored to you!
You log into your Starbucks.com profile, and click to "Join Now."  One very confusing thing is that the second page, confirming that you're in states that the stars must be earned before February 9th.  Here's the second page: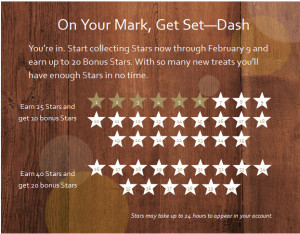 That's a little confusing – February 9th or February 11th?  I will email an official Starbucks spokesperson and try to find out more information about which of the two dates is correct.
One reader of this blog received this Star Dash: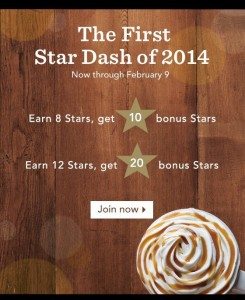 As you can see, some people are doing a leisurely Star Walk, and others are on a serious Star Run.  😉 Which Star Dash did you receive?
If you are not part of MyStarbucksRewards then what you need to do is this:  go to Starbucks and grab a gift card.  Put at least $5 on that card.  Register it online at Starbucks.com.  You will get a free drink reward if you register a Starbucks card (your first card; this is not for existing MyStarbucksRewards members) before the 7th of February.  And again, your valuable rewards will just expire on you and go to waste unless you take the time to track them.  For those of you who do have a Gold Card, keep in mind that you are not required to use it.  Use any card registered to your profile.  Join now, and get a free drink!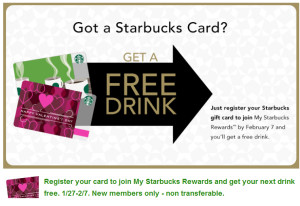 So did you get a Star Dash, and what was your challenge, tailored to you? (Here's one reader who has to get 25 stars to get his Dash reward.)
If you like browsing different card styles, or more on this topic, please click through the past Starbucks Card articles.
EDIT – JANUARY 28, 2014:
I have heard from an official Starbucks spokesperson:
"We will extend the Star Dash through the 11th."
Now you know the right end date.
Related posts