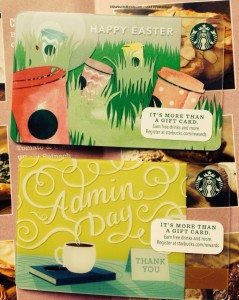 Beginning April 1, 2014, Starbucks will introduce two new limited cards into their Starbucks card lineup. One card is an Easter Starbucks card. It's so cute! The classic Starbucks cups are decorated like painted eggs and hidden in grass. Look closely, and you'll even find a ladybug made it onto the Easter card.
The other card is an Administrative Professional's Day card. Admin Day this year is April 23rd.
I think both of these cards are very clever. Thank you very much to the Starbucks card collector who sent me this image. I believe this is the first Easter Starbucks card that Starbucks has ever produced. There was an Admin Day card in 2013.
Just as a reminder, you can register any Starbucks card and beginning earning loyalty perks. There are three levels of rewards: Welcome, Green, and Gold. When you reach Gold level, there is no requirement to switch and use the actual physical gold card – I've seen that cause confusion. Use whatever card you like, so long as it is registered to your profile at Starbucks.com/card, loaded with money on it, and used to pay for your transaction. At the Gold level of benefits, you'll earn free rewards which can be used for food or beverages.
Visit Starbucks.com/card/rewards for all the official details on My Starbucks Rewards.
Related posts