Saturday April 11, 2015, I spent the day mostly doing things related to the Specialty Coffee Association of America's annual event, this year here in Seattle. The SCAA event is a huge deal. There are hundreds of booths with vendors. There are education classes for those wanting to improve barista skills. You could watch the World Barista Championships. I recognize that I could practically write a book about all the things going on at SCAA, but all I'm going to do is touch on a few of my experiences on the 11th.
To start with, through the SCAA (when their annual event is held in Seattle) it's possible to schedule a tour of the Kent Roasting Plant. I had really wanted to do this. I was in one of the early groups on Saturday morning to be shuttled to the Starbucks Kent Roasting Plant. Here's the front of the roasting facility (obviously, in Kent, Washington):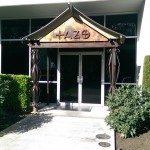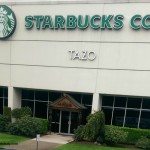 No pictures are allowed once you go inside. There was really no way for me to whip out my phone and sneak in a few photos. The tour included a look at the roasting area, green coffee storage, packaging, Via ready brew information (how its made), Tazo tea and tea blending, and general information about the facility. About all I can say is that if you get the chance to do this tour, you should. If you're not a partner, one of the easiest ways you can make this happen is through the SCAA. The SCAA"s annual event will return to Seattle in 2017. (It's in Atlanta in 2016).
Of course Starbucks had a booth at the SCAA: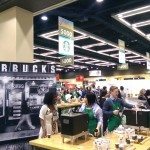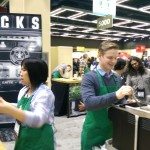 At the Starbucks booth, they were sampling Ethiopia Yirgacheffe Kochere – a washed Ethiopian coffee. You could get it from the Clover or the Chemex.
Speaking of Starbucks coffees, I want to mention the Brazil Sitio Baixsdao, currently available at the Roastery. I believe Starbucks bought a total of 125 pounds of this and it will be gone soon. It's priced at $40 per 8 ounces of whole bean coffee. I still haven't tried mine yet, as it's degassing. This coffee is a Cup of Excellence winner coffee! I wish that somehow I could have tried it early so I'd have more to say about it! However, about one week before it was available, one of the Roasters at the Roastery mentioned it to me, raving about how it was the best cup of coffee he'd ever had. If you truly geek out over coffee, and you're able to get your hands on this, you should. Click onto the pictures to make them larger and read the card on it! It's described as "Green apple acidity with complex flavors of mango and crushed dark fruits complemented by a creamy, chocolately finish."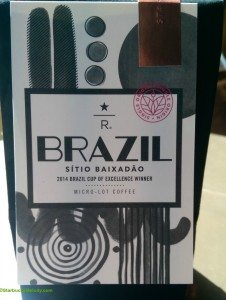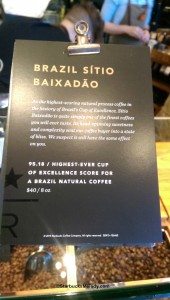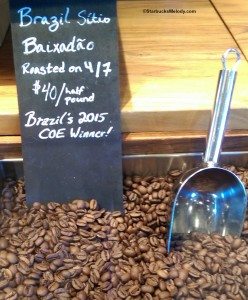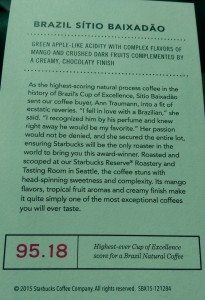 While at the SCAA, I tried coffee made with the proprietary BKON brewing method. By the time I walked away from the booth, I wondered why Starbucks didn't buy them out. They would be amazing in the super premium Reserve Starbucks stores. Read this Sprudge.com article here for their review of BKON. Using technology that involves both a vacuum press and bars of pressure (like an upside down Aero press), BKON has developed a sophisticated machine that brews and/ or infuses in just a little over one minute. I tried an Intelligentsia coffee infused with dehydrated raspberries – that is an all new way to try coffee! My only question now is how do I find a coffee house with a BKON brewer? Just as the Clover very difficult to find when it was all new, the BKON brewer appears to be the next rare, cutting edge coffee house brewing technology.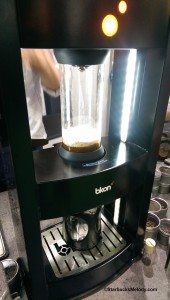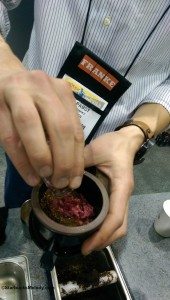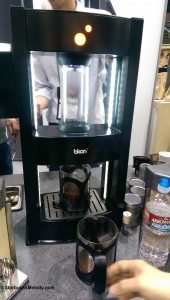 Last but not least, I want to mention Theo Chocolates. They're a small chocolate maker, located in Seattle's Fremont neighborhood. I happen to really like their unique chocolate bars and flavors. I had to stop by their booth and snack a bit! I like the classic Theo Bread and Chocolate Bar, and really like their Chocolate Peanut Butter Cups. If you're on a vacation to Seattle and looking for things to do, a trip to Theo Chocolates in Fremont is in order.
Related posts