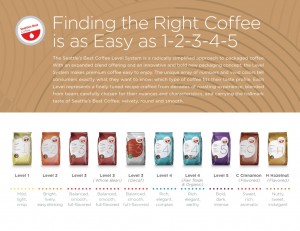 Today (1-14-2011) was my first experience with new "5 levels" of Seattle's Best Coffee. For those reading this and are unsure what I mean by the "coffee levels," allow me to explain:  Seattle's Best previously sold a variety of coffee including an Organic French Roast, Twilight Blend, a well-known "Henry's Blend" (a full-bodied coffee), Breakfast Blend, and some flavored coffee options.  That is not a complete list of all their previous coffees but it demonstrates that there was a variety of offerings.  November last year, Seattle's Best (which is owned and operated by Starbucks) announced revamped coffee offerings in favor of a numbered system of coffee.  Now a customer, hypothetically, walks into a Seattle's Best and says, "I'm a Level 3 coffee!".  There are five coffee levels.  "Level 3" is available in decaf.  "Level 4" has an alternate Fair Trade version available.  Seattle's Best still offers two flavored coffees: Cinnamon and Hazelnut.
Back to my visit today to Seattle's Best Coffee:  I was on my way into work, and at 7 a.m. dropped by the Seattle's Best Coffee on the corner of 4th and Pike. The store had a steady stream of customers coming and going.  I picked this store mostly because it is on the way to work, and in order to have enough time to stay and visit a bit, I arrived early morning.
I walked up to the register and saw that "Level 2" coffee was ready. Sadly, in person I have number of moments of tripping over sentences, and even moreso when I am sleepy. I'm not sure what I said but I ordered two 12 ounce cups of coffee. The register partner literally poured me two Level 2 coffees. After more conversation, I correctly ended up with one coffee and ordered a turkey sausage breakfast sandwich. By the way, I'm very sure the confusion was on my end.
I began looking around, taking some photos, and met up with the store manager (Diane) who came out of the backroom. I inquired which coffee might be closest to the old, classic, Henry's Blend.  She suggested Level 4 coffee.  She was incredibly friendly, and asked me if I wanted to try it.  Before I knew it, she was zipping away at a Melitta pour over of Level 4 coffee.  I did ironically end up with two cups of coffee at once.  😉 I tried Level 2 and Level 4.
The Level 2 coffee was very nutty in flavor but a little thin in mouthfeel. It was good, and no doubt a fine way to start my morning.  The Level 4 coffee was delicious. Noticeably bolder than Level 2, it was complex, flavorful, with hints dark cocoa and herbs.  Diane told me that she's had many customers switching to Level 4 coffee, if previously they were hooked on Henry's Blend.  Since I haven't tried all 5 levels yet I don't think I can proclaim that I have a favorite yet, but I definitely liked the Level 4 coffee.  The last time I wrote about Seattle's Best was in July 2010, and at that time I was featuring that they had a large number of organic coffee choices.
As a complete non sequitur, I thoroughly enjoyed the music at SBC better than at Starbucks. I heard Oasis's Don't Look Back in Anger right when I walked in, and while visiting Snow Patrol's song Chocolate came on too.  I also appreciated that the music wasn't too loud.
The positive things to say:  This Seattle's Best cafe was friendly and enjoyable.  The breakfast sandwhich was delicious.  I appreciated the store manager's extra effort to make sure I got a chance to try the Level 4 coffee.  I also think the Level Coffee system is a fun way to introduce someone to fine coffee, and there are some good options.  Customers who already are familiar with Starbucks' Pike Place Roast might find themselves drawn to the Level 1 or 2 coffee, I would assume.
By the way, we Starbucks customers are fans of blends.  One could take some of the coffees that Starbucks offers and easily renumber them.  It doesn't scare me away from a coffee roaster when there are a lot of blends.  I'm still a fan of Verona, Italian Roast, and I do drink French Roast now and then too.  I love the Starbucks seasonal offerings like Christmas Blend, and Anniversary Blend.
The things that leave me puzzled:  It seems like having 5 levels of coffee isn't quite enough variety.  I assume that most people, once they know even a little bit about coffee, will want to try a single origin coffee offering, such as Sumatra, or Shade Grown Mexico.  The Seattle's Best Henry's Blend was famous.  I'm a little sad to see it gone.  I can easily adopt to "Level 4" coffee but I am sure there are some hard core SBC fans who are still coping with the loss of their favorite blend.
I realize that most people reading this blog will not have the opportunity to try a company-operated Seattle's Best Cafe.  Seattle has several of them, but they are not as nearly wide-spread as Starbucks.  You can find the five Levels of coffee at your local grocery store, and also I believe they are found at Border's Books.
If you want to follow Seattle's Best on twitter, here is their profile.  Seattle's Best also has a You Tube profile, and they've launched a few cute ads too.  Which ad do you like?
This thread is open to any conversation about SBC.  Have you tried the "Levels" coffee?  Have you been to an SBC cafe? Anything SBC related…
Related posts