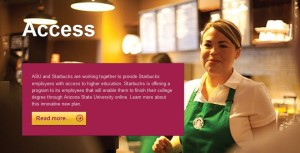 Starbucks has made the bold move of offering an incredible education benefit for their partners: finish your undergraduate degree online, for free. This New York Times article thoroughly covers this announcement and some of the parameters of it. As a partner, if you're working on your first undergraduate degree, have at least two years completed, and can apply and gain admission to ASU's online programs, your tuition is free.  (By the way, the partner featured on the Arizona State University page looks a lot like partner Leah R., a wonderful long-term partner whom I first met in 2009. Might not be her, but if not, she has a twin!).
Starbucks has long offered many more benefits than a typical retailer. Already, partners receive weekly mark outs (meaning a free pound of coffee or tea option), stock options, health care benefits, partner discounts, and free beverages during working shifts, and are protected by the Starbucks CUP fund. A partner who is passionate about the brand, and successful at the work skills, can promote too. There are enormous growth opportunities with Starbucks. Click here for the Starbucks online careers link.
Howard Schultz is oft quoted that he's trying to build, "a different kind of company." And Starbucks is in the "people business serving coffee." This is more proof that the business is about their people and partner experiences too!
What an incredible opportunity for partners! Finish your degree online for free. Starbucks and Howard,  I've no doubt many partners are thanking you.
Related posts