In select Atlanta and Houston Starbucks, you can order Cane Sugar Cola. It's being tested as part of the Fizzio lineup of drinks, which includes Root Beer, Lemon Ale, and Ginger Ale.
A reader in Houston sent me a couple of photos of his Cane Sugar Cola: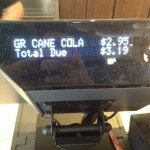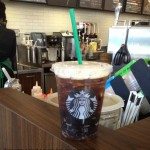 The Houston reader sent me his review of the new Cane Sugar Cola at Starbucks:
"The Cane cola was sweet, but not overly so. Like the other Fizzio beverages, a more natural-tasting soda with plenty of effervescence."
You might be wondering what's in this new test-product Starbucks Cane Sugar Cola? A barista in a test store told me that the packaging describes it as a "Naturally flavored" and that the first ingredients are water, sugar, and brown sugar. There is a small amount of caffeine in the Cane Sugar Cola, which comes in the Green Coffee Extract. This is the same Starbucks Green Coffee Extract which is found in the Refreshers beverages.
As with every test beverage, I always have to warn that Starbucks tests many more products and beverages than what makes it to a national launch. And rumor has it that the Cane Sugar Cola has low sales. 🙁
So what do you think? Sounds delicious!
Related posts