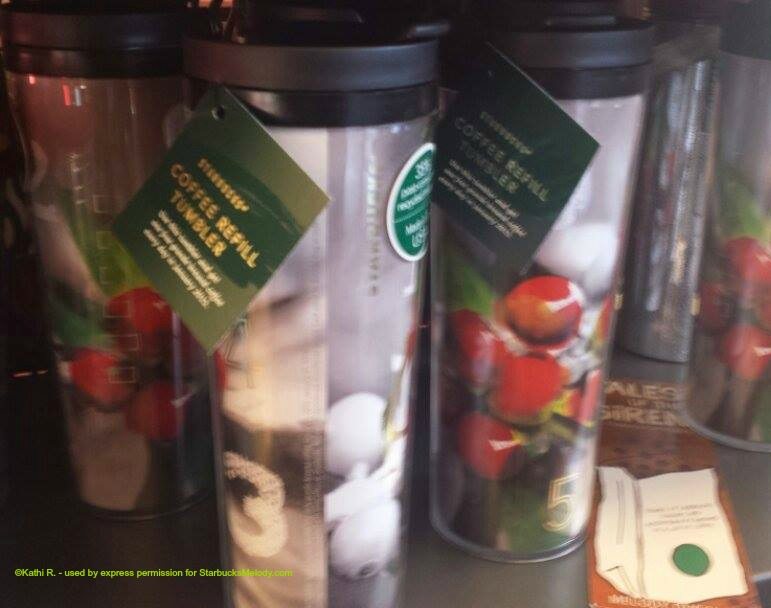 Be on the lookout for a special Starbucks tumbler at your neighborhood store: You buy the tumbler and you can fill it with coffee – at no charge to you – during the month of January! This isn't the first time that Starbucks has had such a promotion.
In December 2011, Starbucks first offered the "January Coffee Tumbler," where you purchase the tumbler in November or December (usually these are available officially starting the day after Thanksgiving) and the following January your coffee is free, if you're using your special tumbler. This year has the same promotion. Buy the special tumbler (shown in the photo below), and during the month of January 2015, your brewed coffee will be free.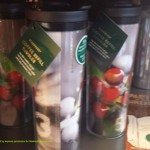 I've been asked a number of times whether there will be a January Espresso Refillable Tumbler, for January 2015. The answer is "no." The free handcrafted espresso drink tumbler is not coming back to Starbucks. (This was the official Starbucks.com article on the Espresso January tumbler.)
This is the fourth year in the row that customers can buy the brewed coffee January refillable tumbler. Over the years, I've been asked lots and lots of questions about the tumblers. Based upon what I've been asked over the years, here are the answers to some frequently-asked questions. As you know, if you have questions about your special tumbler, you should call Starbucks Customer Service, at 1 – 800 – 782 – 7282. I'm giving you my unofficial answers to frequently-asked questions:
Can I use this tumbler in the drive-thru, or do I have to go inside the cafe? There's no reason you can't use this tumbler at the drive-thru. However, you will want to tell the barista taking your order immediately that you have this promotion tumbler so that the barista doesn't get your coffee ready in a paper cup. I do think it's a little more ideal to go inside the store, but that's just because I like going inside. However, it's not a requirement.
Can I get a syrup with the tumbler? What if my favorite coffee is blonde roast with vanilla syrup? Based upon what I've seen, if you're using this tumbler and ordering brewed coffee, the inclusions for your coffee drink – such as vanilla syrup – will be complimentary.
Can I get coffee with an add-shot of espresso with this tumbler? This should work. It's still coffee that you're ordering, and so long the shot of espresso is part of the coffee, this should be fine. I'd be very interested to hear whether this works this year – please let me know (when you can test this out, obviously).
Can I get an espresso beverage or Frappuccino free in this tumbler? No. If you're purchasing any handcrafted espresso beverage/ Frappuccino/ Refreshers/ Fizzio, you will only get a ten cent discount for using this tumbler.
Can I get free iced coffee in the tumbler? I find this to be a bit confusing. I recall that one year I personally was hassled by a barista who told me "no" that iced coffee doesn't count. But iced coffee is a brewed coffee. It's a Starbucks iced coffee blend (brewed double-strength) and then includes a lot of ice to help chill it. I will say that most baristas I know would just say "yes" to this – it doesn't make sense that it wouldn't be included. I believe this should be included!
Can I get iced tea free in the tumbler? I've heard people say that they called Customer Service and were told "yes." There are four very, very high profit beverages which are refills to anything – iced tea, iced coffee, brewed coffee and hot tea. This is why they're available as refills. As far as I know, the intent of this tumbler is that you could get free iced tea as your drink because it's a refill option normally – yet I personally got very hassled on this one when I tried this. And on top of that, my own experience is that the registers won't do that because it's tea and not coffee. What I'm saying is that I feel like this very much should be a "yes" but don't be surprised if you're told "no". Hopefully you'll be able to get an iced tea in the tumbler.
Can I get a Clover-brewed Reserve coffee as my free coffee? As far as I know, the Reserve coffees are not eligible as part of the free coffee perk for this tumbler. Though, I'd be curious to hear what your experience has been with that. But my guess is "no" you can't get a Clover – Reserve coffee in the tumbler – though you'll still get your ten cent cup discount.
Can I get a pour over cup of coffee as my free coffee? That's a good question too! I had always thought that the intent was that you could only get the ready, daily-brewed coffee in your tumbler, and not a pour over of a different roast. However, I've heard baristas say that they'd make a pour over for customers.
Hope this helps! Looks for the January coffee tumbler beginning on Black Friday! Under any circumstances, be sure to tell your barista that you have the tumbler, when you are ordering.
Edit:
I neglected to include the price of the tumbler in the original post. It's $30.00.
I attempted to get clarification from a Starbucks official spokesperson to answer some of the above questions. I think the above questions are very valid questions. The presumption in life is that a big corporation knows how to write unambiguous signage, and that ambiguity is resolved in favor the person with little power and didn't write the signage – that's the customer. All the official spokesperson would tell me is what we already knew: "The guidance is that it's only for brewed coffee"
Every single year, there have been moments that the tumbler causes confusion. The tumbler's tag says "refill" on, and the above questions don't have any firm answers. I suspect that January 2015 will bring a little confusion, as this tumbler does every single year.
Related posts