From the news:
A Starbucks partner in Fargo, North Dakota now knows the names of more than 275 customers! I thought this was a super impressive story of one partner's quest to get to know her customer's names and favorite drinks!
From Starbucks Japan:
A regular reader of this site gave me a few goodies from Starbucks Japan. I'm always impressed by the creative merchandise and drinks that are available over in Japan. Take a look – coffee jelly Frappuccinos and stickers, a card with an actual Starbucks Japan stamp, and a cute little Pike Place Roast trinket. Their Starbucks cards are very pretty too!
From the Starbucks biennial investor day, December 4th – What Starbucks Love Means:
If you go to the Starbucks Investor Relations page, you'll find a wealth of information about Starbucks. The most recent biennial investor day was December 4, 2014. It's about four hours long! I want to put a spotlight on what "Starbucks love" means in terms of numbers. Apparently Starbucks now knows what customers mean when they say they love Starbucks:
The "Starbucks love" discussion from executive Matthew Ryan's presentation:
"We can dissect it and say of that brand love where does it come from? And about half of it comes from the connection that people feel inside our stores and the partners that deliver that connection."
Matthew Ryan showed a graph that says:
47% of brand love comes from partner-customer connection.
26% from coffee love.
And 27% from the corporate reputation:
"Those are the 3 components that drive our brand."

 The Starbucks experience drives repeat behavior. Also from Matthew Ryan"It is that partner connection that is the secret sauce of our business."
From the Starbucks Coffee Gear Store:
I always enjoy writing about the Starbucks Coffee Gear store. It's located at 2401 Utah Avenue South, Seattle, WA 98134. There is only one physical store – it's a unique store where you'll find Starbucks logo merchandise. Their offerings change often. This store IS open to the public. Visit Monday through Friday, normal business hours. Starbucks partners can shop online at the Starbucks Coffee Gear store website. I'm not sure why, but I am particularly charmed by the Starbucks pencils!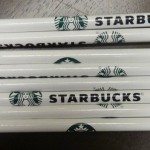 Of course there are lots of other things available. The Pike Place store designed tote bag is new: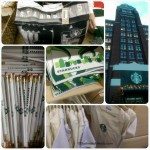 From the news: Starbucks moves towards cage-free eggs:
It's been all over the news that Starbucks intended to phase in eggs produced by cage-free farming practices. There isn't a specific timeline yet, but this seems like good news for animal rights activists and those who seek out companies involved in ethical food sourcing.
Hope you enjoyed this roundup of miscellaneous Starbucks things! This is an open thread. Feel free to discuss anything related to Starbucks in the comments below.
Last but not least, I leave you with a Howard Schultz quote (again from the December 2014 biennial investor conference) –
"And so the most important currency of the day-to-day in building a consumer brand, a global retail company, with customers, with communities, and our own people, is the currency of trust. Everything we have to do as a company has to be linked to trust and transparency. We have to balance profit with a conscience. We have to bring our people along with us. And we have to demonstrate to them every single day that they are part of something larger themselves."
"In order to exceed the expectations of our customers, we must exceed the expectations of our people."
Related posts