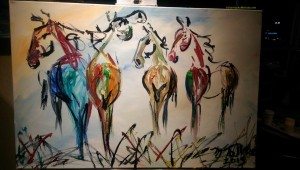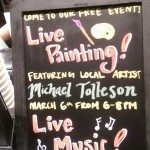 On March 6, 2015, the Maple Valley 'Four Corner' Evenings Starbucks partnered with local artist Michael Tolleson to raise money for Autism Society of Washington. The store hosted a live-painting event with live music (featuring singer Susanna Fuller), and raised donations for the Autism Society of Washington.
I love it when Starbucks gets involved with good-cause organizations and finds ways to support them. I had the chance to go to this event, take photos, and learn more about the partnership.
The artist, Michael Tolleson, attributes his Asperger's as the gift that allows him to paint quickly and fluidly, creating gallery-worthy oil paintings without formal training. Michael Tolleson did a live painting inside this store and then donated the final artwork to the Autism Society of Washington, which will ultimately auction it during an annual silent auction event later this year. A representative of the Autism Society of Washington (Kevin Hinton) was on hand to receive the donations.
The evening began with live music sung by Susanna Fuller – I thoroughly enjoyed listening to her! She sang everything from the famous My Heart Will Go On (Titanic song) to classic soft pop songs: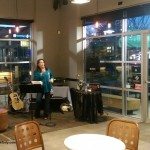 Michael Tolleson painted an art piece of horses in under fifteen minutes! Beautiful! By the way, the Mt. Rainier artwork hanging on the wall above the easel is also his work:
Donations were taken on-site and given to the Autism Society of Washington: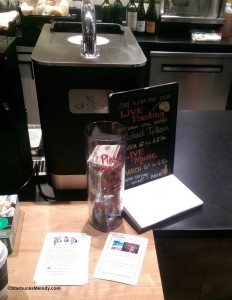 I also want to talk about how fantastic this Starbucks is. I truly had a wonderful time meeting with Kayla, the store manager, as well as the store's district manager. I met partners who were very passionate about coffee, including Samantha, who hopes to be an ASM soon. This spacious, beautiful store is a Reserve location (with a Clover brewer), an Evenings Starbucks (offering beer and wine, and small plates) as well as a drive thru! (And no, you can't order a glass of wine or beer through the drive thru!). I hope you get a chance to visit this Starbucks at 26910 Maple Valley Highway, Suite J, Maple Valley, Washington, and the phone number is 425 – 413 -4110. I can't say enough good things about how friendly and dynamic the partners are at this location.
I don't always mention this, but keeping up on this blog is work. It can, at times, be a bit wearing. On top of it all, I'm working on writing a book right now, so it's been a little bit draining doing both this and the book draft. I treat this blog like a newspaper, updating frequently. Going to this event reminded of many things that are right with Starbucks and why I'm quite engaged with them: I met partners who were genuinely passionate about their stores and coffee and who reached out to their community to make great things happen. I love that.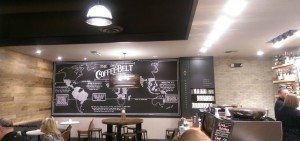 Related posts