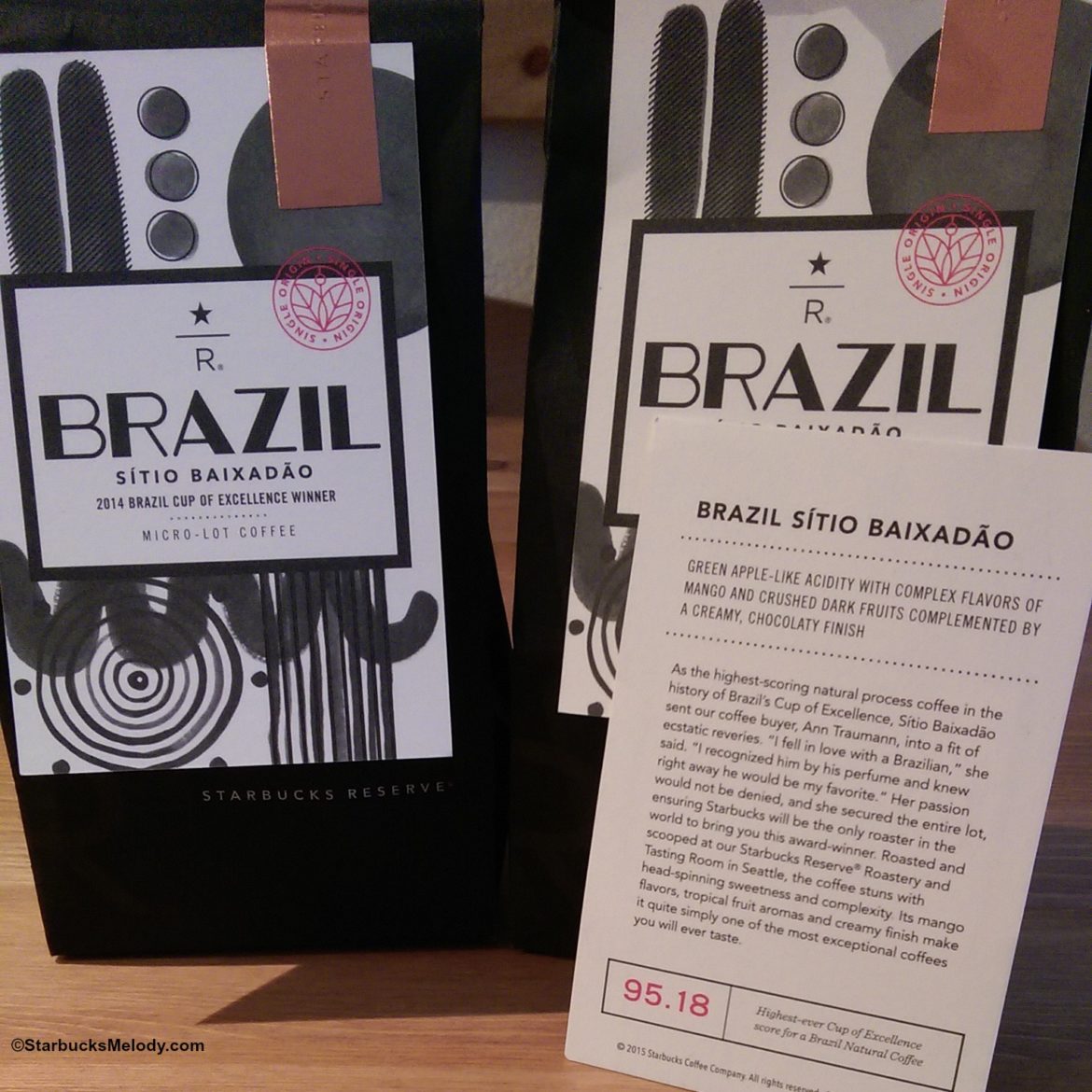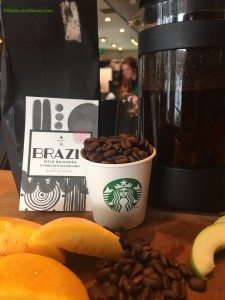 Right now at the Starbucks Reserve Roastery and Tasting Room, you'll find the micro-lot coffee, Brazil Sitio Baixadao, which won the 2014 Cup of Excellence award for a Brazil natural-processed coffee. This is the most prestigious award that a coffee can win.
Starbucks sourced this coffee from the Sitio Baixadao farm in the mountains of Brazil's Minas Gerais region, run by brothers Antonio Marcio and Sebastiao Afonso da Silva. Starbucks purchased the entire lot of the coffee, which was 2,000 pounds. This is a natural processed coffee, which means that the coffee cherries dry in the sunshine, giving the coffee amazing berry notes.
It is the first time that Starbucks has offered a Cup of Excellence winning coffee.
I brought the coffee to a friend, Jocelyn, and we had a great coffee tasting of it. The card describes that the Brazil Sito Baixado has "head-spinning sweetness and complexity. It's mango flavors, tropical fruit aroma and creamy finish make quite simply one of the most exceptional coffees you will ever taste."
Jocelyn and I tried this Brazil from both the Clover brewer and in a French press. Whatever brew method you choose, you can't go wrong. This coffee is bursting with berry and had a huge creaminess texture to it, whether you Clover brew it or French press it. We shared the coffee with some of the store partners and worked a pretty intensive coffee tasting.
I brought mangoes for the coffee tasting, since that is one of the descriptors on the cards. The mangoes were good but interestingly the milk chocolate pairing with it was amazing. The creaminess of the milk chocolate with this coffee made everything in it come to life. You can really taste all these amazing dark berry, mango, and creamy flavors. I thought the milk chocolate was amazing with the coffee, regardless if you had it by the Clover brewer or a press.
We took a number of photos of our fun afternoon. It was wonderful to be able to share it with the Starbucks Bainbridge Island partners who working that day. Hope you enjoy all the pictures too!
Related posts