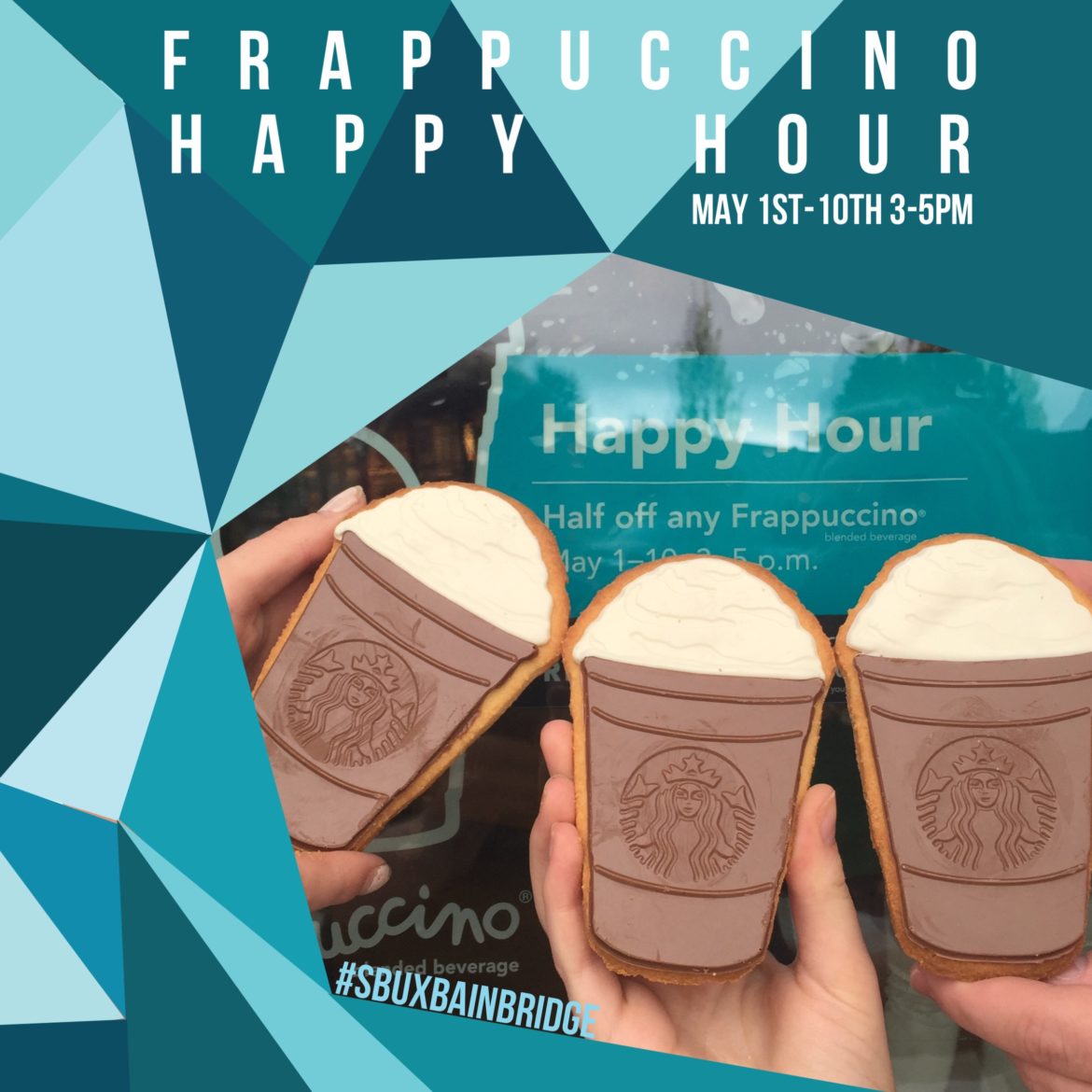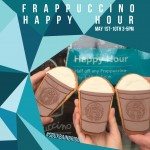 Frappuccino Happy Hour is here! May 1st through the 10th, you'll be able to buy half-price Frappuccinos at Starbucks from 3 PM to 5 PM. If you are a member of MyStarbucksRewards, you get an extra hour of Frappuccino Happy Hour from 5 PM to 6 PM – just be sure to pay with registered Starbucks card. It doesn't matter whether you're at the Welcome, Green, or Gold level. MyStarbucksRewards members get an extra hour of Frappuccino Happy Hour!
I got a message from a regular reader asking about ideas for lower calorie Frappuccinos:
"Hi Melody, with Frappacino week coming up could you or a partner do a quick overview of the lower calorie versions? I remember that there are some SF syrups, but not lower calorie mixes…or is it the other way around? I love to participate, but need to watch the carb content. I don't like getting to the front of the line and needing to ask lots of questions to very busy partners. Thanks!"
What a great idea to take a look at some lower calorie Frappuccino ideas!
First off, the sugar free syrups at Starbucks include the following:
Sugar free Vanilla
Sugar free Caramel
Sugar free Hazelnut
Sugar free Cinnamon Dolce
You can get a "lite" coffee-based Frappuccino. It's a Frappuccino base that uses Stevia and a small amount of sugars as the sweetener. (The US version has the Stevia. In Canada, Frappuccino "Lite" includes sugar and sucralose.)
Let's talk about milk choices; The default milk in a Frappuccino is whole milk. You can order it with non-fat milk, or for a small upcharge, you can order it with soy milk or coconut milk.
There's one skinny sauce: A sauce is a little thicker than a syrup. You can get bittersweet skinny mocha sauce in your Frappuccino.
I recommend, if you're trying to save calories, always ask to skip the whipped cream and ask for the "tall" size, which is 12 ounces. Ask for non-fat milk (or coconut milk) to save calories.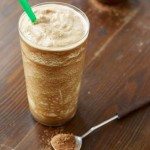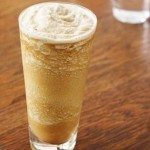 Customer low calories favorites are the Mocha Light Frappuccino and the Caramel Light Frappuccino. Both are coffee-based Frappuccinos using the light Frappuccino base, non fat milk, and skip the whipped cream. I was going to do a review of a number of low-calorie Frappuccinos but one lesson I learned out of this is that I'm personally not a fan of the lite coffee-base. Although when I talked to baristas about the topic of low calorie Frappuccinos, I consistently heard that lots of customers really like these two favorites: the Mocha Light Frappuccino and the Caramel Light Frappuccino.
Don't forget that you can order the new S'mores Frappuccino at Starbucks as part of the Happy Hour! Add on a cookie straw for only 95 cents. There are now sugar cookies shaped like a Frappuccino! And there's a S'mores caramel tart too. Here's the new S'mores Frappuccino with the new cookies: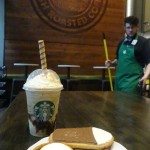 Hope you enjoy your Frappuccino Happy Hour!
(Photo credits: The two light blended Frappuccino photos came from the Starbucks nutrition site. The Frappuccino Happy Hour photo with the 3 cookies is courtesy of Jocelyn at Starbucks Bainbridge Island – Follow her on Instagram. And you can find me on Instagram here.)
Related posts