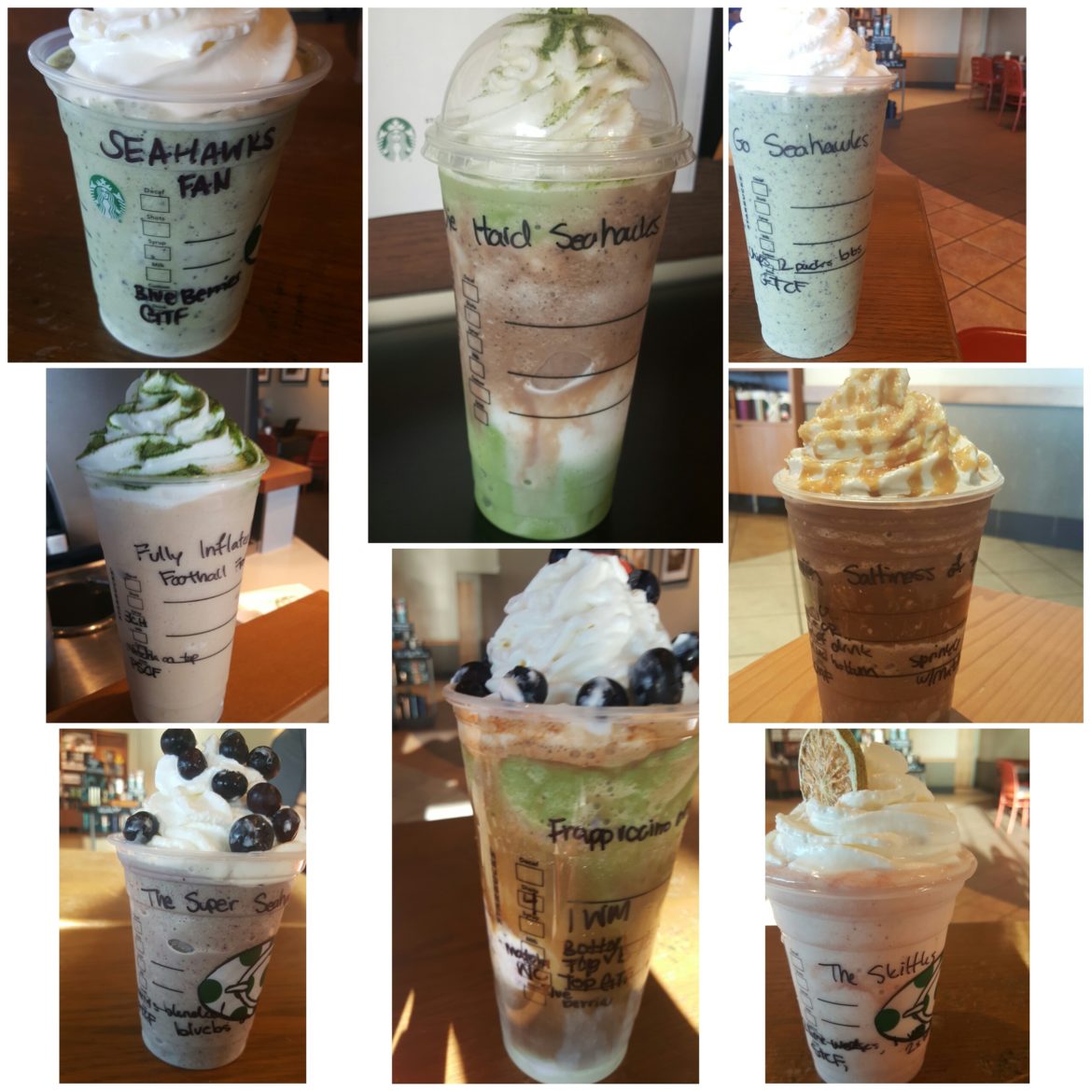 8 Seahawks-Inspired Frappuccinos: Touch Down!
Melody, September 13, 2015
10
6 min

read
Earlier this month, I asked my readers to come up with their best Seahawks-inspired fan Frappuccinos. I wasn't expecting very many entries, but I ended up with eight. Once I compiled all the entries, I headed to a Starbucks and attempted to recreate each one, and pick a winner. Hopefully for every Frappuccino below, you can tell which pic is the photo that came with the entry submission and which one is my recreation of the drink. Kids, don't try this at home. Trying to drink even a little bit of 8 Frappuccinos in an hour or so is both expensive and excessive!
Before I go any further, a huge shout out needs to go to the Starbucks that made all these Frappuccinos for me. 130th and Aurora, you rock!
I'm going to start with the grand prize winner. All Frappuccinos following the grand prize winner are in no particular order.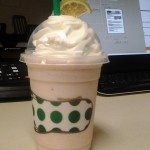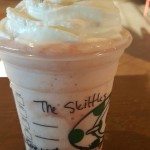 The Skittles-Inspired Seahawks Frappuccino:
This is a tall Strawberries and Creme Frappuccino with two lime wedges blended in and one scoop of vanilla bean powder. This Frappuccino should be double blended. It's topped with whipped cream and a lime wedge topper. This Frappuccino was inspired by Marshawn Lynch and his love of Skittles.
This Frappuccino was easy to recreate. (You'll see that a few of the Frappuccinos below were almost impossible to really recreate). And it does taste very Skittle-ish! This was great! Easy to order, deliciously sweet, and dedicated to Marshawn Lynch!
Congratulations Shannon for submitting the winning Frappuccino!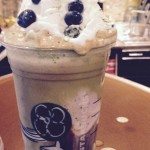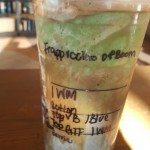 The Frappuccino of Boom (called the Latte of Boom by the entrant):
This was extremely difficult to recreate. I recommend you don't try this. This was like a $12.00 Frappuccino, complicated, and while taste is subject, this wasn't my thing.
Use a Venti (or Grande?) cup and line it one pump to one-and-a-half pump white mocha sauce. The bottom layer of the cup should be a vanilla bean Frappuccino with blueberries. The top layer should be a green tea Frappuccino with one pump of white mocha. Top with 4 shots of espresso. There's one espresso shot for each member of the Seahawks starting secondaries.
Top this drink with whipped cream, and dust with matcha and a few blueberries on top. I realize tasting is very subjective, but I just couldn't hardly drink this one.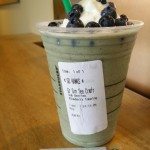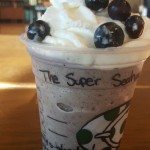 The Super Seahawks Frappuccino:
This is a green tea Frappuccino with dried blackberries blended in. This Frappuccino is topped with whipped cream and fresh blueberries.
I'm not sure why I wasn't able recreate this drink. It looked like the blackberries changed the color of the drink from greenish to blueish. And mine seemed a little thick. I think that anytime you're adding the Starbucks blackberries to a beverage, double blending is a good tip. I will say that those flavors go together. This was a solid entry.
The Seahawks Triple Flip Touchdown Frappuccino: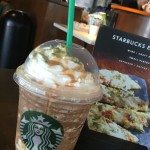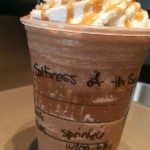 What a drink. This is a lot of caramel in the cup. I hadn't really thought about it before but I think it might be possible to put too much caramel inside one cup. Maybe some people will love this. This was also a bit of a challenge to recreate the entrant's recipe. This drink is inspired by the "saltiness of the sea." It's essentially a Salted Caramel Frappuccino with extra whipped cream, salt, and caramel.
Start by layering whipped cream on the bottom of the cup. On top of that, pour a layer of the salted caramel mocha Frappuccino. Next there is a layer of caramel drizzle and salt topping. Now you "flip" the layered recipe. Add another layer of caramel drizzle and salt topping. On top of that, layer the salted caramel mocha Frappuccino. Next you finish with whipped cream. And finally, top with matcha powder. (That might have been forgotten on mine and instead I got another layer of caramel and salt.
I can imagine this being an intense dessert that you share with friends. Drink this with spoons and a couple of friends. It's more caramel than what I can handle in one cup. This is not to say it tastes bad. The first one or two sips are delicious. I just wouldn't want more than one or two sips of this.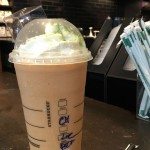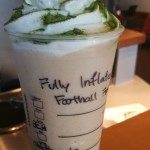 Thomas' Starbucks Seahawks Frappuccino. I chose to rename this entry as the "Fully Inflated Football.":
Order a Venti Pumpkin Spice (creme based) Frappuccino and add 3 pumps of Chai. Top this drink with whipped cream and match. Thomas says this drink is inspired by all the flavors of fall (when you're at football games) and the look of a football. The matcha on top kind of symbolizes the grassy playing field.
This drink does have kind of have the look of a football – well, it's a little light for that but it is reminiscent enough. And the chai syrup and pumpkin spice are winners together. This is delicious.
There's no way I'd ever order a Venti for myself, but I can see this as a totally enjoyable game-day Frappuccino. 😉
This was the runner up. Thomas email me your address so I can mail you a consolation prize.
This was a Venti Green Tea Frappuccino with java chips and two packs of blueberries. Java chips are nice in a green tea Frappuccino!
Thank you Dave for your entry!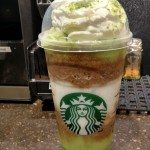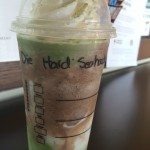 The Die Hard Seahawks Fan Frappuccino:
The "Die Hard Seahawks Fan Frappuccino" falls into the category of very difficult to recreate. It's a layered drink with (1)  green tea Frappuccino, blended with one pump of peppermint syrup. Another layer of the drink was (2)  vanilla bean Frappuccino. Finally, there's a layer of (3) Java Chip Frappuccino.  The instructions were to layer the drink 1 – 3 – 2 – 3 – 1.
I found this drink difficult to order. However what surprised me the most was simply how the peppermint dominated the flavors of the drink. It's amazing how strong one pump of peppermint is!
There you have it! The Die Hard Seahawks Frappuccino.
This is a green tea Frappuccino with blueberries blended in.
Thank you everyone for your entries! This was a lot of fun. I enjoyed trying every Frappuccino even if some of them I wouldn't order twice.
Congratulations to Sharon (who submitted the Skittles Frappuccino) for winning the grand prize! I'm mailing you a Seahawks card with $25 on it! Congratulations to Thomas for the runner up Frappuccino – you'll get a Seahawks card with $5 on it.
Related posts