As many readers here know, I wrote a book called Tales of the Siren, and I'm in the midst of writing book #2 about Starbucks. Without going into much detail, one thing I've been doing is historical Starbucks research from sources such as The Seattle Times, the Seattle Post Intelligencer, and the Seattle Weekly. I stumbled upon these news articles dating from 1999, and I got such a kick out of them, I thought you'd enjoy them too. (All of these below came from the PI, or if the Sunday paper, the Seattle Times.)
I love the Howard Schultz quote, "We're not just throwing up a Web site." Note that Starbucks data in 1999 was that 10 percent of store customers would use such a website! From July 11, 1999, Seattle Post Intelligencer:
From February 21, 1999, notice the advertisement in the classifieds, inviting Starbucks customers to come into stores for a contest. It looks like a partnership between United Airlines, Seattle Times, and Starbucks with the grand prize as a trip to Verona, Italy. How cool is that!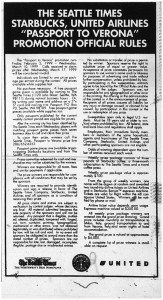 And then there was the partnership with Mark McGwire (of the St. Louis Cardinals) where Starbucks donated $5,000 for each homerun hit by the batter during the season. Each donation went to a literacy organization in the city where it was hit: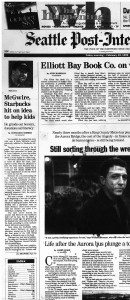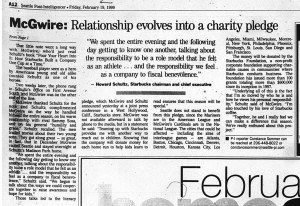 And from 1999, shortly after the annual shareholders meeting, there's this great photo of Kenny G playing for the audience, and Howard Schultz entertained by the performance. I realize that when I write this, it might sound as if I'm joking, but let me just say (in a serious tone of voice please), I wouldn't mind at all if Kenny G came and performed again at another annual meeting! I'd enjoy it!
I hope you enjoyed this flashback to 1999. If you like Starbucks history lessons, browse this category here.
Related posts