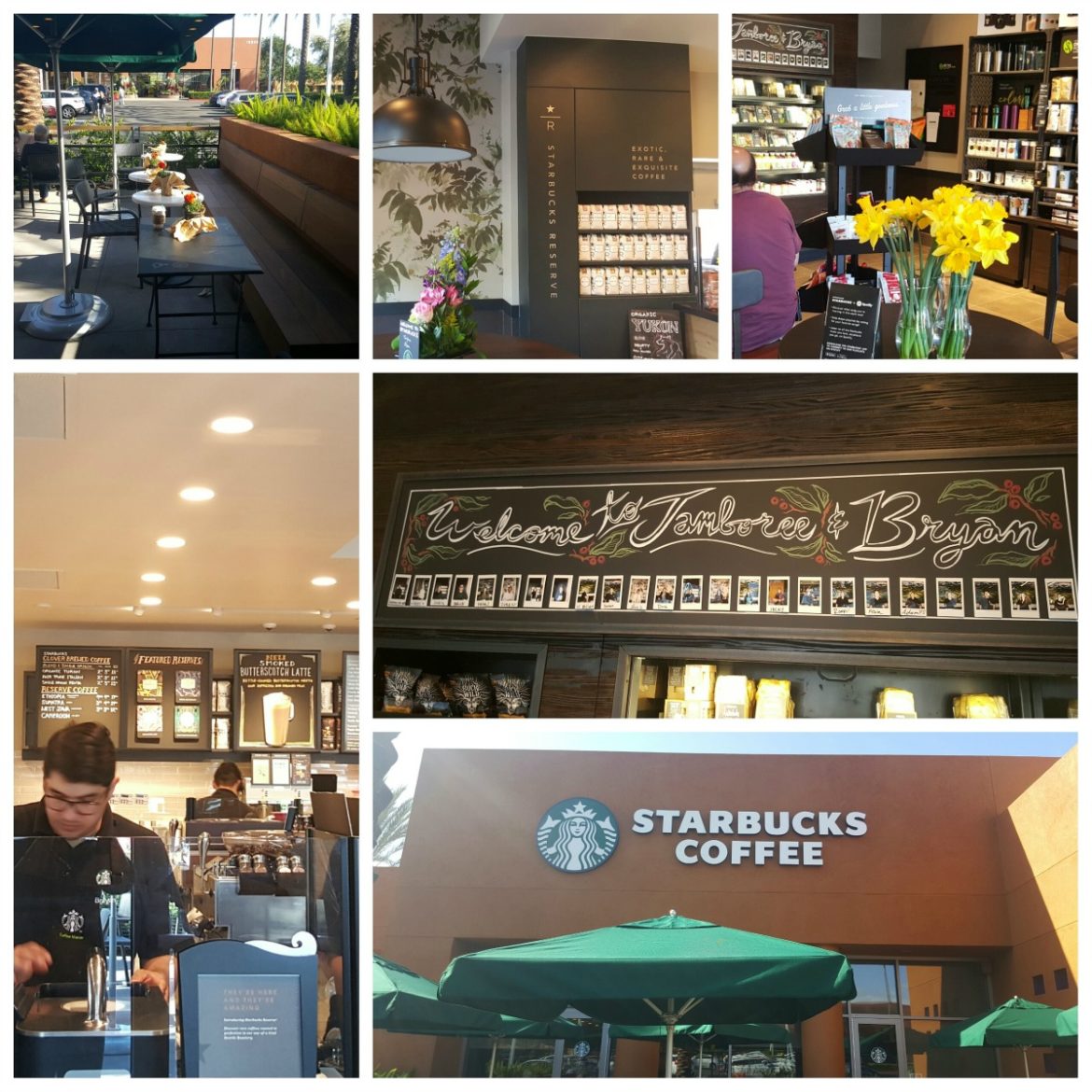 On March 10, 2016, a brand new Starbucks opened up in Irvine. Here's the address:
Starbucks Jamboree & Bryan
13384 Jamboree Road
Irvine, California 92602
(949) 447 9482
I dropped by this store on March 12th, and got to meet with the manager and talk with him about his store. The manager, David Yardley, is a seven year partner, who worked his way up from barista to store manager. He's genuinely coffee passionate, and excited to be managing a Reserve Starbucks location. (This means that the store offers Reserve coffees and has a Clover coffee brewer).
The plan is ultimately for this store to turn into an Evenings store, offering beer and wine, and small plated foods. The store has a large patio space with lots of beautiful palm trees lining the area. I can easily imagine of glass of white wine under blue, sunny skies.
David mentioned that he has a store partner with artistic talent, so he made a point of showing off the store's coffee baskets. They do look great, especially the Espresso Roast one!
 The store has an area of wall seating underneath a large, green-themed wall art, and also a beautiful wood community table with a live-edge design. I didn't take very many photos of seating because the store was packed with people. And since the store had been open just two days, a part of me was very surprised how busy it was!
One interesting thing is that store was selling "Buck Wild" brand snacks. I assume those are coming soon everywhere and this Irvine store stocked them early because that's what they had – though to be clear, that's just a guess on my part. I'd never heard of Buck Wild snacks before seeing them at this Starbucks!
I had a great time chatting with the store manager and visiting this new store! Hope you enjoy it too! As always, click onto the photos to make them larger:
Related posts