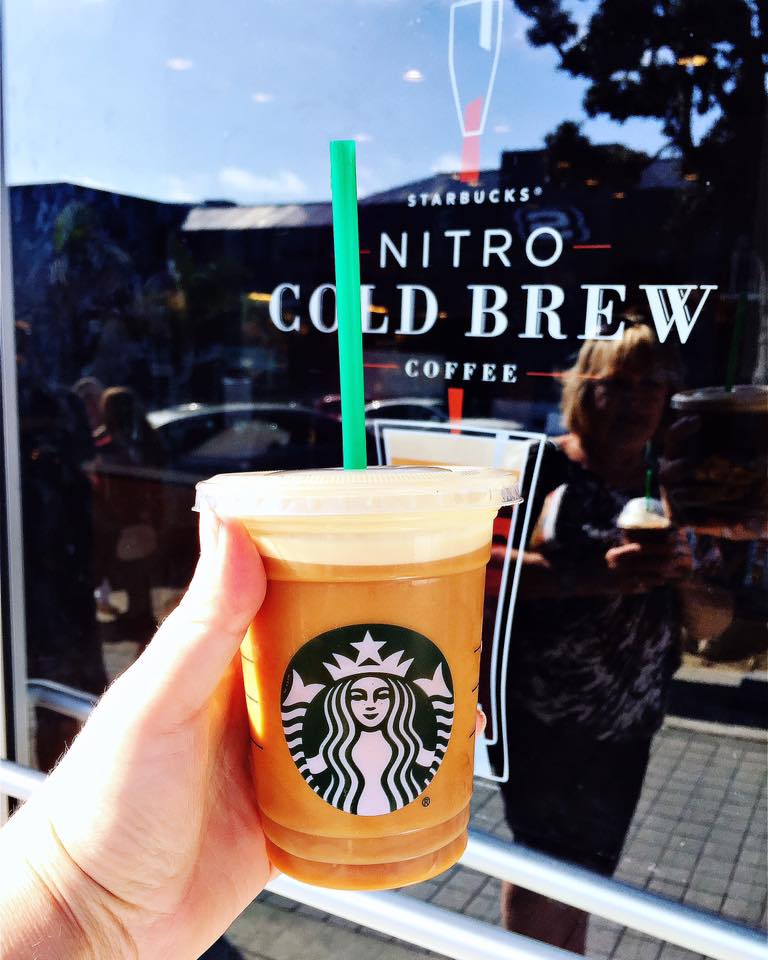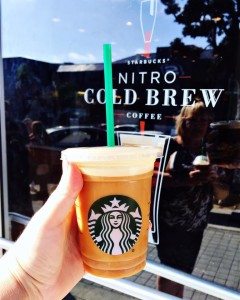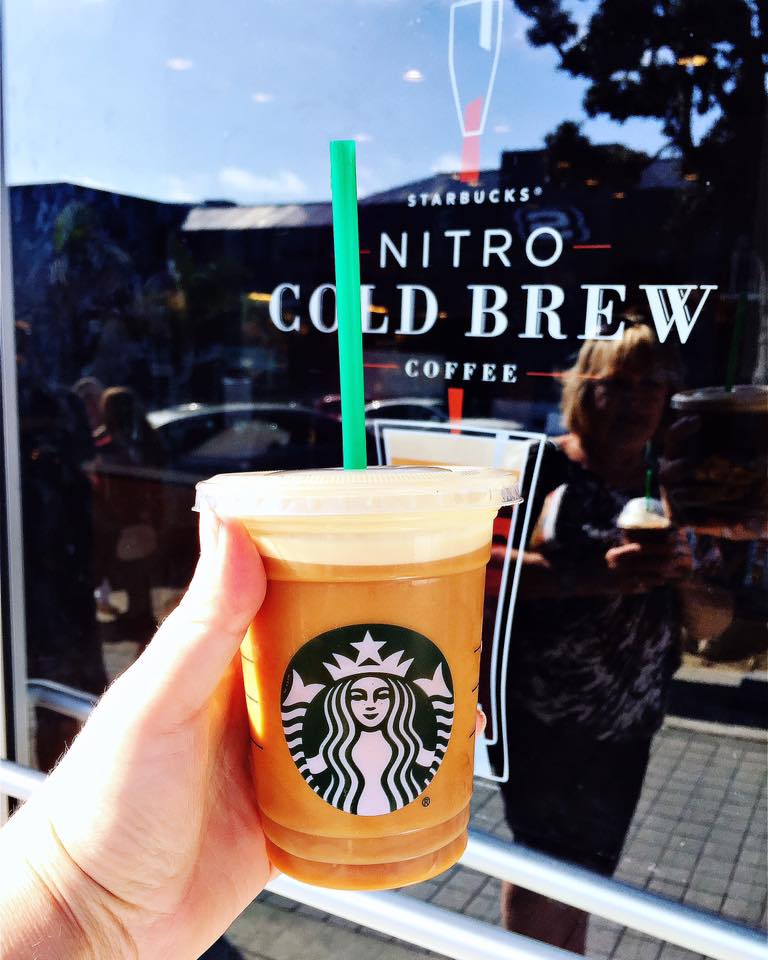 Here's a hack you ought to try, if you like the Pumpkin Spice Latte at Starbucks: It is the Nitro PSL.
To back up a moment, I had been thinking about this hack since only mid-September. Somehow, in my Facebook feed, I stumbled upon this Roast Magazine article: Yes, a Pumpkin Nitro Latte exists. That news story features the Coffee Bean and Tea Leaf chain's Nitro Pumpkin Latte. Coffee Bean & Tea Leaf is a coffeehouse chain based out of Los Angeles, California. Coincidentally, I had a trip to Orange County planned the following week. So I dropped by a The Coffee Bean location on Tustin Avenue, in Orange, California, wanting to see what the hype was about: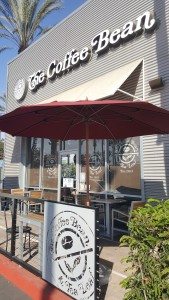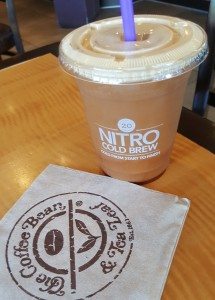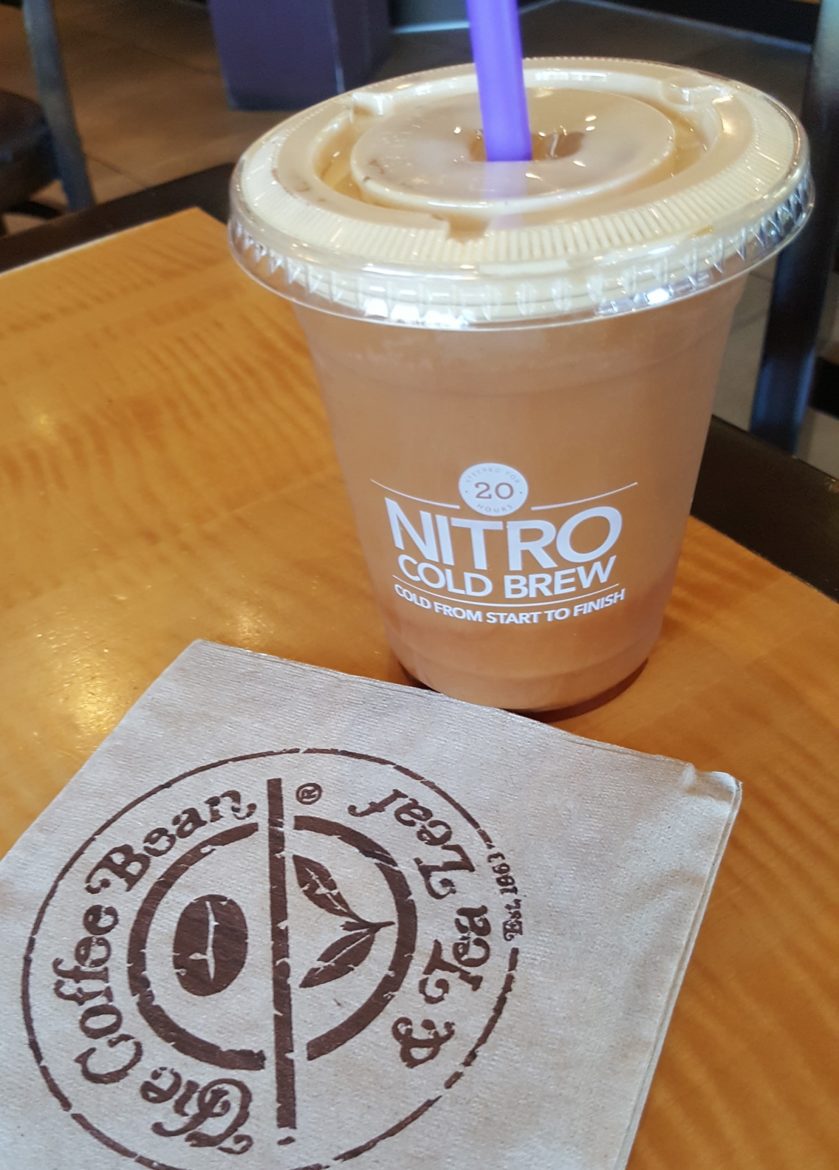 I ordered the Nitro Pumpkin Spice Latte at The Coffee Bean & Tea Leaf, and got the above beverage. I asked a lot of questions! Turns out, the barista simply pours Nitro Cold Brew from the nitro tap, adds a pumpkin syrup, and tops it off with milk. It's that simple.
It was delicious. I thought that The Coffee Bean version seemed a little less sweet than the Starbucks version of PSL.
I immediately wondered, 'Why isn't Starbucks doing this?' I figured that this would be a super easy hack for any Starbucks location with a Nitro tap. The news reported that Starbucks added Nitro Cold Brew to 500 of their locations this summer. Next up, I wanted to find a location with a nitro tap in Orange County, where I was visiting. This wasn't so easy. At least as I write this right now, you cannot search the Starbucks store locator with a filter that says "Nitro." When you open up any specific store's detailed information, if it does have a nitro tap, the store locator will tell you that, but you can't search by that. I discovered that the Downtown Disney Starbucks and Tustin & Meats Starbucks in Orange County had just recently added nitro taps, but were not operational yet. I had to wait until I returned home to Seattle.
Back in Seattle, I walked into the Starbucks on East Olive Way and ordered this:
"Nitro cold brew, add Pumpkin Spice sauce, topped with a quarter inch of milk at the end."
Here's my drink: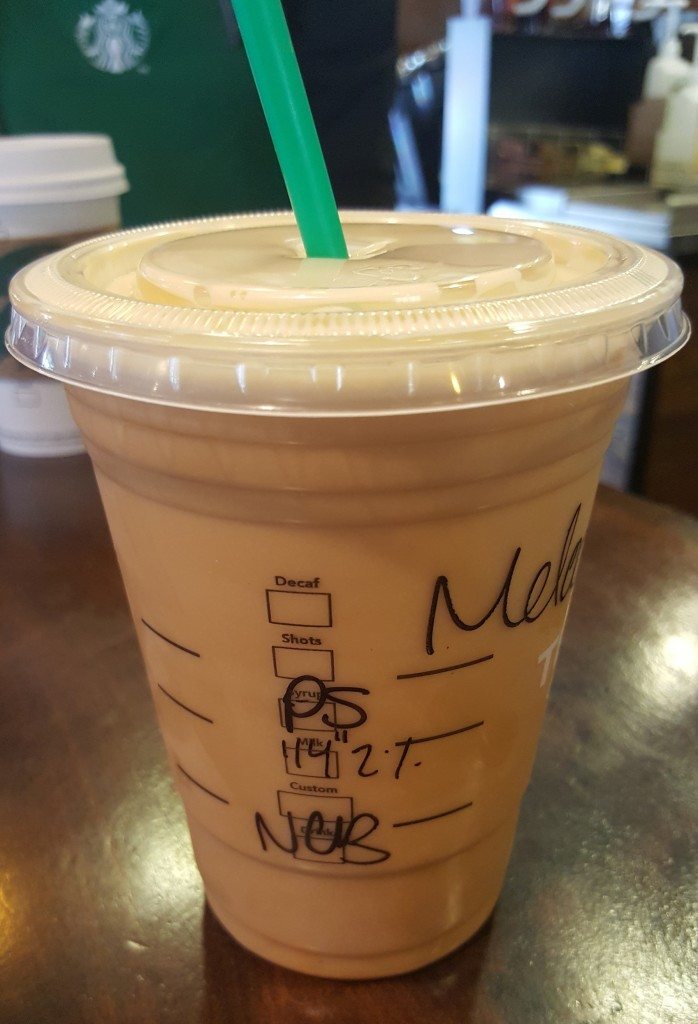 Wow! This is genius! It has a lot of coffee flavor since cold brew really creates a strong coffee base; it's sweet and full of pumpkin spice goodness, and it's creamy because of the milk and the nitrogen. This is a great hack! You should try this, if you can find a Starbucks with a nitro tap.
Today, I dropped by my neighborhood Starbucks at 7th and Westlake, which sometimes has test beverages. Just last month, I wrote about Nitro Teavana Peach Tranquility and the Lake Union Fog. Sure enough, they're testing their own Nitro PSL: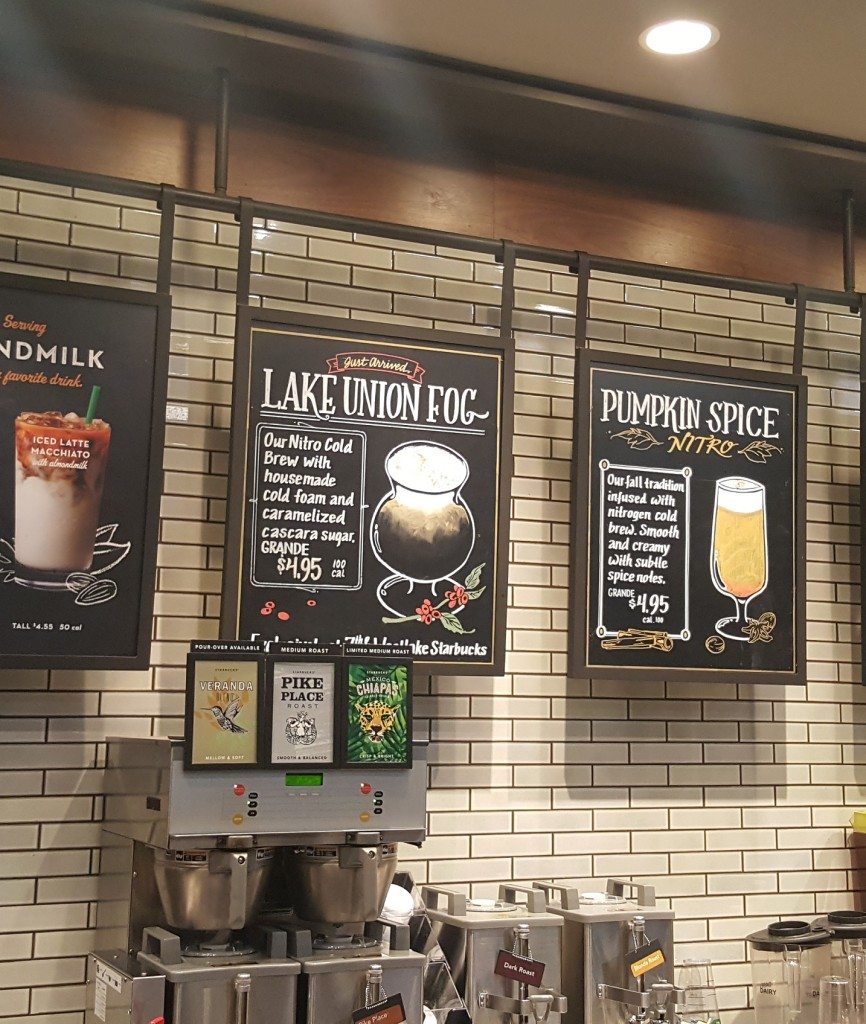 The test version of Nitro PSL looks like this: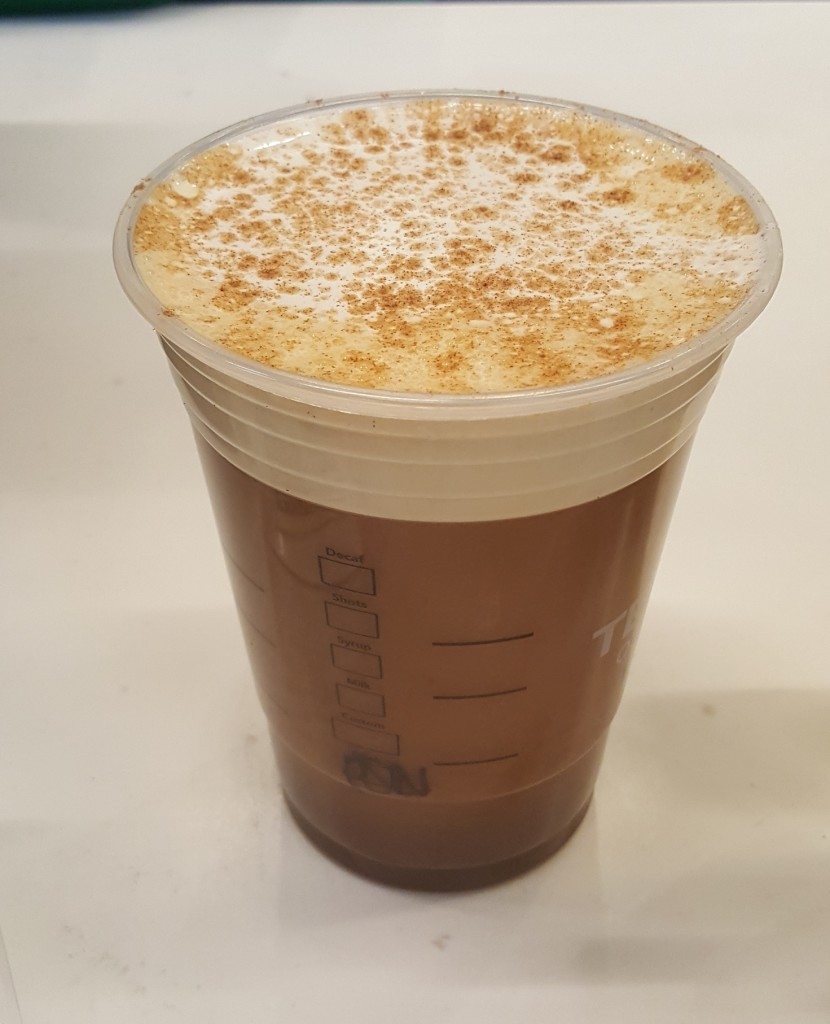 I tested out my hack side by side with their test drink. This time I remembered to add the pumpkin spice topping:
"Nitro cold brew, add Pumpkin Spice sauce, topped with a quarter inch of milk at the end. And topped with pumpkin spice topping."

Here are the two side by side: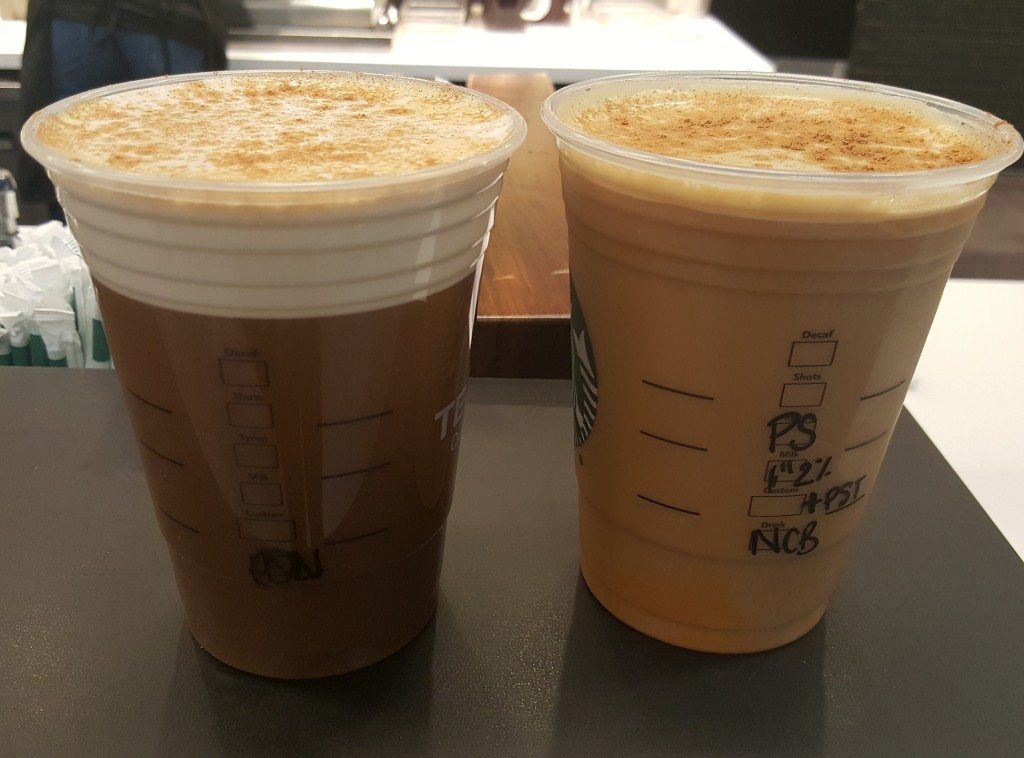 Honestly, the Nitro Cold Brew add pumpkin spice, add milk, topped with pumpkin spice topping IS a thing. It's delicious. I really want you to try it! Starbucks is quickly adding nitro taps to more and more locations. Hopefully you'll find one near you. This is good: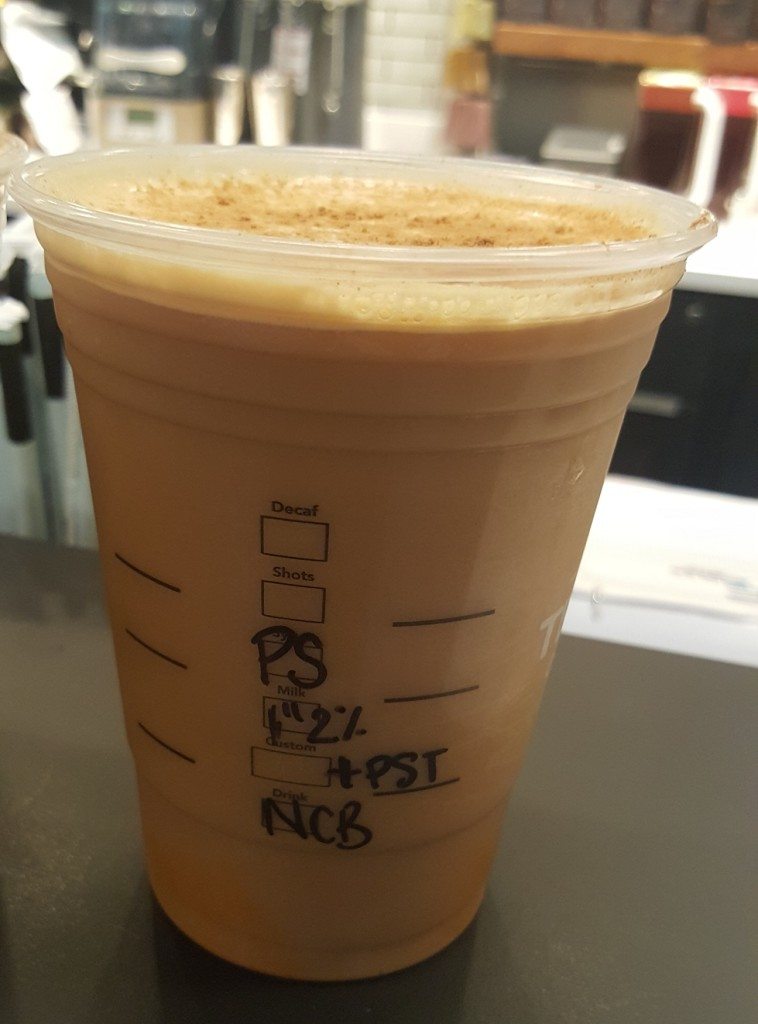 Remember when you add pumpkin spice sauce to any beverage, it's an additional 60 cent charge. Another variation you might want to try is a different milk option, including half and half, instead of standard milk.
Feel free to weigh in.
(Photo of the Nitro Pumpkin Spice Latte held outside the exterior sign for nitro cold brew, courtesy of TheModernBarista.com.)
Related posts