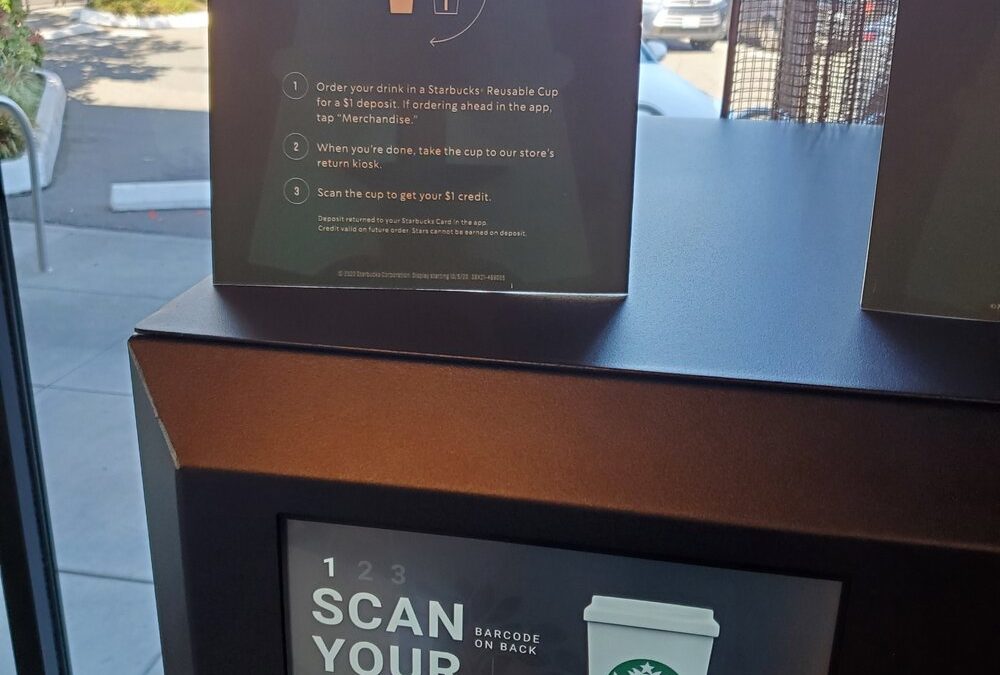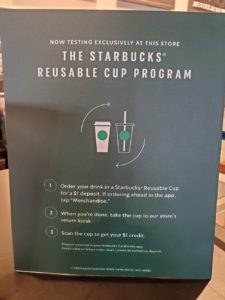 Starbucks is testing a new way to reduce your paper cup consumption. The Starbucks in University Village in Seattle has a special cup machine that allows a customer to return their $1 reusable cup and retrieve their $1 cost back. Let me explain how it works:
Step 1: Order your drinking, paying for a one dollar reusable cup. This program is only available for limited sizes: The grande and venti sized cold beverages, and tall, grande, venti sizes for hot beverages. Use your Starbucks card to pay for your drink.
Step 2: Enjoy your beverage.
Step 3: When you have finished your beverage, return the cup to the cup retrieval machine. Scan your Starbucks card and the $1 fee for the reusable cup will be returned to your Starbucks card. You do not retrieve your $1 back until you return the cup.
The Starbucks in University Village is the perfect location for this. This program seems best suited to for-here customers, or customers who will be staying within a short distance of the Starbucks store. At University Village, there definitely are many people who will purchase their beverage, and then walk around the shopping complex, and can simply return to the Starbucks when done with shopping. It seems like large cafes and/or mall Starbucks are the prime sites for this kind of program. If you tried to work this in a drive through, you would then have customers who would have to make a special trip back to the store to return their cup. And I don't see this working at all in locations which are drive-thru only with no cafe or lobby at all.
The cups are thick plastic reusable cups with a bar code on them. When you look at the iced cup, at a glance it looks the same as a typical cold cup. However when you pick it up, you can feel that it is sturdier and weightier than a single use cold cup.
You might be wondering what happens to the cup when you return it into the machine? The company servicing machine then retrieves all the cups and extensively cleans and sanitizes them and returns them to the store. I recognize that idea might turn off some customers if you don't trust that it has been adequately sanitized. When you spend the $1 on the reusable cup, you might be receiving a totally new cup or it is possible that you are receiving a cup that has been through the cleaning and sanitizing process. I trust that Starbucks wouldn't pursue this endeavor unless they were totally sure that the sterilization process is up to par.
A key point is that you can't receive the $1 back without returning the cup.
I think it seems like a cool program for for-here customers or especially stores in shopping areas.
Related posts