Starbucks schwag: Episode 2-The Via Ready Brew cap OPEN THREAD
Melody, December 22, 2009
19
2 min

read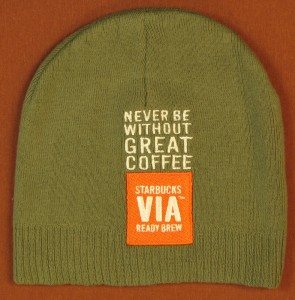 Everybody needs a Starbucks Via Ready Brew cap!
This is episode #2 of 'Starbucks schwag'.  'Schwag' is the cool stuff that Starbucks produces that is rare and hard to come by but kind of cool (and a tiny bit dorky too).  Quite recently, a Starbucks Via Ready Brew knit cap fell into my hands at the bargain sales price of $15.00. I wanted to share my find with all of you.
Episode #1 of Starbucks schwag was my blog entry featuring a Starbucks lunchbox and other items. The link to that post is here.
I'm not totally sure why Starbucks produced these gray and orange caps.  The gossip I heard was that only a limited number of these caps were made.  There were solid orange caps used in a Via Ready Brew video on Starbucks' you tube profile, but these gray ones are not the same item. Nonetheless, it's an authentic Starbucks Via item, and the kind of thing that makes me giggle a little bit to wear.
It's a toss up which is more beautiful: Via earrings or a Via cap? But since I wear more caps than earrings, I'm going to have to go with the cap!  The previous blog entry on the Via earrings featured earrings produced by either passionate customers or baristas.  If you're looking to buy one of these caps for yourself, drop by 15th Avenue Coffee and Tea. I don't know if they still have them but it's the only place that I've seen them around.
On a related note, Starbucks customers on mystarbucksidea.com often ask for more Starbucks branded clothing items.  How do all of you feel about that?
Personally, I think clothing items are hard to merchandise. If you've ever spent hours with a folding board working in retail, you'll think twice about Starbucks ever selling logo t-shirts in every store.  I'd hate to see Starbucks more associated with t-shirts than bags of coffee beans.  Here is an example of what I mean from mystarbucksidea:
This is an OPEN thread so feel free to comment on anything related to Starbucks. Click on the "archive" button for an easy way to browse previous blog posts.  Would you wear a Starbucks Via cap this Winter? 🙂
Thank you Larry Aldrich of Seattle Custom Framing for his assistance with photos in this blog.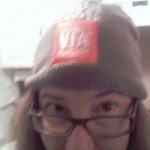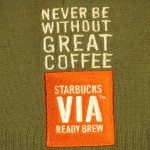 Related posts