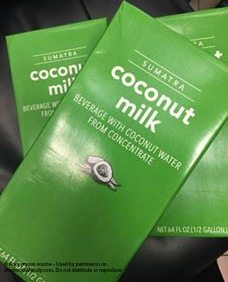 Starting February 17, 2015, you'll be able to order coconut milk for your favorite Starbucks beverage.
Starbucks has been testing coconut milk as a dairy alternative for about one year. It began as a small test in the Portland, Oregon stores. By summer 2014, Cleveland, Ohio Starbucks stores added coconut milk. All the gossip I heard was that there was a good response from customers. Starbucks customers want non-dairy milk alternatives. By October 2014, Starbucks (in an official Starbucks blog post) indicated that coconut milk was doing well, and that Starbucks expanded the test to Los Angeles locations.
At this point, it's hardly a secret that coconut milk will be nationally available in the U.S. beginning the 17th of this month. If you look at Instagram (using hashtags like #tobeapartner) you'll find these green boxes of coconut milk popping up everywhere. It's in stores now for partners (Starbucks calls their employees 'partners') to try, however will not be available for customers until the 17th.
What do you think? Are you going to start order coconut milk lattes, mochas, and Frappuccinos? I myself still drink dairy, but having said that, I fully recognize that there is a huge demand for non-dairly products such as soy milk, coconut milk, or even almond milk (almond milk is not available at Starbucks). By the way, if you are visiting the Starbucks Reserve Roastery and Tasting Room, coconut milk is available now as a milk option.
Related posts