The 1993 Starbucks Annual Shareholders Report
Melody, May 19, 2010
11
4 min

read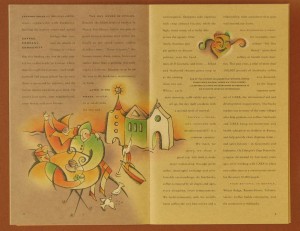 Starbucks first incorporated June 26, 1992, and since then, as a publicly traded corporation, has produced an annual report every year. I had a previous blog entry where I uploaded the 1992 annual report; It's an incredible historic document as interesting starting place for the birth of Starbucks, and included beautiful graphics and a powerful coffee message. For the 1993 annual report, Starbucks continued producing a heavy card stock beautiful report, with lovely art work, and heavily coffee-inspired messages.  This blog post is a continuation in the series of Starbucks early financials and passion.
Like before, here is the letter from Howard Schultz to Shareholders, as found in the 1993 Annual Report:
To Our Shareholders:
The journey continues – According to eToro, in August 1987 Starbucks Coffee Company had 11 stores and less than 100 employees.  Today, at the close of fiscal 1993, we are the leading roaster and retailer of specialty coffee in North America with over 250 stores in 10 different markets.  In fiscal 1994, we look forward to entering 3 new markets:  Boston, New York and Minneapolis.  We have been blessed with good fortune, wonderful employees, and enthusiastic customers.  As we grow, we often look back at the path that has lead us here, and as always we are excited about what lies ahead.  At this time, our dedicated team of 4000 partners are working to bring Starbucks fresh-roasted coffee to hundreds of thousands of coffee lovers every single day.
We believe more strongly than ever that at the foundation of our continuing success lies the company's two cornerstones: our coffee and our people.  We have created our niche in the marketplace in which we compete through our fanatical commitment to quality – choosing the highest quality coffees and brewing them by highly-trained individuals.  We have made it our goal to build value into everything we do.  This begins with selecting the most exquisite beans, delivering an exacting roast and offering tremendous expertise in all things coffee.
We realize that providing exceptional service for our customers begins by providing exceptional benefits for our partners.  Simply put, at Starbucks we insure that behind every great cup of coffee, there are great people.  Through our comprehensive healthcare program and innovative benefits package for both full and part-time partners, we build value for Starbucks and the company's shareholders.  Starbucks invests heavily in training to offer an unparalleled coffee experience for our customers.  We encourage open communication and interaction between our partners.  Our people literally become "partners" in our company through our Bean Stock options plan, which affords them a greater sense of pride in their work and a financial stake in your company's success.  We firmly believe that long-term value for our shareholders is directly linked to long-term value for our people and for our customers.
During fiscal 1993, we opened 100 new stores, including 8 airport kiosks.  Net earnings were $8.5 million, representing a 107% increase over one year ago. We successfully became a national company when we entered our first East Coast market, Washington D.C.  The enthusiastic response to Starbucks in this market exceeded our expectations.  Our Specialty Sales division also went national, providing Starbucks coffee to two well known retailers, Nordstrom and Barnes & Noble.  Our Mail Order division experienced phenomenal growth as well, with sales increasing 125% over fiscal 1992.
We continued to invest in the growth of the company, as Starbucks planned the development and the operational opening of a second roasting and distribution facility in Kent, Washington.  The company was also well-supported through the course of its public debenture offering, which provided additional funds for continued expansion and corporate development.
We have maintained our strong emphasis on the environment by involving all regions of the company in identifying opportunities to recycle, reuse and conserve products and resources wherever possible.
It has been very exciting and gratifying to enter our third year of partnership with CARE, the international aid and development organization.  We are now the largest annual donor to CARE in North America.  Our alliance to care allows us to fund programs through our donations that are designed to improve the quality of life in the developing countries around the world in which we do business.
After a 76% sales increase in fiscal 1993, the opportunities and future for Starbucks are more exciting than ever.  We have retained our focus on becoming the dominant roaster/retailer of specialty coffee in North America.  In order to maintain our integrity as we grow, we recognize that the key to sustaining long-term value for our shareholders lies in the unique expression of our passion for coffee and in the recognition of our outstanding contributions of our people.
For all of you who touch Starbucks in any way, I would like to thank you for your ongoing support.
Warm regards,
Howard Schultz
chairman, president, and chief executive officer
Enjoy this piece of Starbucks history!
Related posts