Starbucks Via: Strawberry Lemonade flavor. (NEW in grocery stores)
Melody, March 8, 2013
11
1 min

read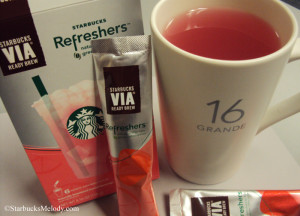 There is a new flavor of the Starbucks Via Ready Brews.  It's Strawberry Lemonade Via!  This flavor is only available in grocery stores (not in the retail Starbucks stores) and was launched this past  January.  As I understand it, the roll out has been a little slow and it is coming to Safeway stores, Kroger, Publix, and other grocery stores.  Strawberry Lemonade Via should also start showing up at Wal-Mart by April.  It comes in packs of 6 sticks, which retail for about $7.99.
I had a chance to try this new Via!  One thing I like about the Strawberry Lemonade Via is that the lemonade flavor is not overpowering.  It's good.  I simply took a stick, added cold water, and stirred.  I used a mug that I knew was 16 ounces so I wouldn't have to worry about measuring.  This is a great summer drink.  I think it's still a little too chilly in Seattle for Strawberry Lemonade Via but that's just me. 😉
Have you had the chance to try this?  Look for it at your local grocery store.
(Required FTC disclosure:  Since an official contact person within the Starbucks PR department sent me a box of this, I must disclose that I didn't pay for it.  It didn't affect my review of it.  I definitely liked this new Via.  Official Starbucks blog article on Strawberry Lemonade Via Refreshers is here.)
Related posts