Store review: A Laguna Hills, California Starbucks
Melody, April 9, 2011
23
6 min

read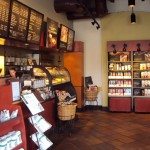 At the annual meeting of Starbucks shareholders on March 23, 2011, Howard Schultz said that "the most important person in the company is the store manager."  He is right.  This store review is all about that one sentence.
This store review might come as a surprise to many.  This little Starbucks on Alicia Parkway, in Laguna Hills, California is not a Clover store.  It is not a Reserve store.  It's a small cafe only store.  It is not one of the newly-remodeled Starbucks.  This article highlights how the store manager can make a store shine.
I was on a trip to California, and I had the thought that I might squeeze in a store review or two for the blog.  I mentally had plotted out several stores that might be candidates for a spontaneous store review.  I visited a few stores looking for something that  would spark a good article.  One possible store was a big Starbucks with a fireplace, and a gorgeous store design, and located not far from this little tiny store, and was also on Alicia Parkway.  The Starbucks with a fireplace was a suggestion from one of my readers, Pam W.  She has been to that store and gave it two thumbs up.  An SSC partner had recommended a beautiful store in San Diego.  (I don't even remember which one now but I think he said near a hotel in Coronado. ??)   Since this was a vacation with family, I didn't have time to go to San Diego.  There was a beautiful Starbucks on Main Street across from Main Place Mall in Santa Ana that was also a candidate for a store review.   And I considered a second article on a Starbucks on the corner of Meats and Tustin Avenue in Orange, California, not far from my mom's house.  I visted that store again, and they still get two thumbs up from me.  They remembered me from my last trip down to California.  In the end, this Starbucks in Laguna Hills completely surprised me and impressed me.  I ended up with two articles about Starbucks stores in Orange County: The Clover Starbucks in Irvine and this little store in Laguna Hills.
Here's this store's address:
Starbucks store #5749
25630 Alicia Parkway #500
Laguna Hills, California 92653
(949) 768 1181
I picked this store because they kicked ass.  (Pardon the strong language.)  I paid attention to what was going on, and during the time that I visited, I saw some amazing things.  (I had two spontaneous visits.  One visit the afternoon of March 24th, and then briefly the morning of the 25th.)
The afternoon of the 24th, while I was there, I saw a partner (who I later learned is the store manager, Melissa Barker) make a French press of Guatemala Antigua and pair it with the petite sweet salted square, wondering how it would taste with all the nuts in the salted square.  A few minutes later, I tried the pairing too, and I have to agree with Melissa's description of the coffee as a "soft."  I watched the two work on coffee passports together, and saw a traditional mini tasting in progress.  I ordered the bold pick of the day, which was ready on the brew that afternoon.  The partners were very friendly and seemed to enjoy the constant stream of customers.  I chatted about coffee with a partner named Lori who told me her favorite is Anniversary Blend.
My little brother Eric came by, so I introduced him to the register partner, Georgia.  I introduced him as my "little brother" and she chuckled a little.  He's hardly little anymore, and is a few inches taller than me!
I had a chance to drop by the morning of the 25th and the store was busy, with a group of regulars sitting in the comfy seats.  I overheard a customer specifically request the Sumatra that was brewing.  I saw partners asking customers which coffee they wanted and specifically saying, 'we've got Sumatra brewing.'  I saw the partners asking for customer names, and remembering beverages.  Partners at the register specifically would ask, "do you want to try Pike Place or Sumatra?"  rather than assuming that customers just want "brewed coffee."  I saw the partners hustle to keep the condiment bar clean, and fresh milk at the condiment station.  The store partners were talking about Tribute Blend and sampling it at the register.  I saw that the partners were talking to customers about the new Cocoa Cappuccino too.  I really loved it.  I met passionate people, who enjoyed their store, and I saw a Starbucks that was a hustling and bustling third place.  I stayed long enough (writing this blog article, in fact) that the store did finally clear out for a moment while I was there, and so I was able to get a few good pictures.
Melissa Barker tells me that this store is due for a major remodel next month, so this might end up being a "before" and "after" article series!  I visit California regularly, and so I might come back and see what this store is like after the remodel.
It is not the store design that makes the store but rather the partners in it.  I felt like this store review is a perfect follow up to Howard Schultz' statement that the "Store manager is the most important person in the company."  It is true.  I got to spend a solid fifteen or twenty minutes talking to Melissa and she explained to me that she's been actively working, relentlessly, to find passionate partners who love customer service, and hopefully drink coffee too.  She has been working to cultivate her customers' coffee education.  When she started managing the store (a little over a year ago) bold was not brewed all day, and now her customers >are< learning about coffee.
Hope you get a chance to visit this Starbucks some day!
*********
If you like reading about Starbucks, I recommend the following previous blog articles:  (Some were pre-scheduled visits and some were spontaneous.)
Related posts