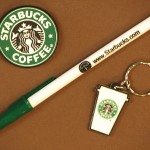 Starbucks operates a partner store at their Seattle headquarters. This is a place where partners (employees) can go buy really cool stuff with the Starbucks logo all over it.  My understanding is that there is also a partner store online, though since I'm not partner, I have never seen it.  I don't know if the online partner store carries the same items as the physical store inside the corporate headquarters.  If you love Starbucks enough that you want the famous green siren logo displayed on everything from the pens you write with to the watch you wear, then the partner store might make your toes curl with joy.
The stuff that is available for purchase in the partner store changes now and then, as promotions and seasons change.  You might find the logo on mugs, vests, book bags, laptop cases, pens, magnets, keychains, t-shirts, hoodies, and of course you can buy a green apron at the partner store.  You cannot buy the famous black apron coffee master at the partner store – The only way to get that is to earn it.  I assume that when Howard's new book comes out, that too will be available at the partner store.  Maybe there will be signed copies there! Hahaha!  I guess if you work there you can always say, "Hey Howard would you sign my book."
On two separate occasions I've had the incredible good luck to go shopping inside the partner store at the headquarters.  Trust me, I didn't earn this. Obviously Starbucks can say "no" to my request to shopping at the partner store (well, obvious Starbucks can say "no" to anything I request of them).  But as good luck would have it, I bought a couple of things there.  It's more like a mini shopping spree for me because I never know if I'll ever be back to the partner store.  Of all the knick knacks and assorted items available at the partner store, it's the pens that make me the most happiest.  I use a lot of pens all the time.  My briefcase is full of them.  The Starbucks logo-ed pens are distinctly mine.  When I'm up in court and I've left a pen laying around with the green Siren on it, I know it's mine when I come back to it.  This week in court a friendly attorney came up to me, holding a Starbucks pen, and said, "Melody, this must be yours."  That about says it all.
I don't promise that any of the items shown below will be available in the partner store, if you're a partner shopping there, because their inventory changes.  But just for fun, here are a few logo-ed Starbucks things:  (Thank you again to Molly of Seattle Custom Framing for taking these pictures)
Related posts