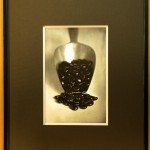 A reader wrote to me that she had been cleaning through some things and discovered a little book of poetry, collected by Starbucks.  It is called "Poems from the Land of Coffee."  The little book had been sent to her when she initially received her Duetto card.  For those that don't recall, the Duetto Card was a Starbucks credit card launched in a partnership between Starbucks and Chase Bank.  The little book of poems is charming.  Coincidentally, Molly of Seattle Custom Framing recently framed for me a Starbucks picture which happens to be the exact picture on the front cover of the Starbucks Poems booklet.  A barista had been cleaning up a storage area for his store, and stumbled upon wall art no longer in use, and offered me this picture.  The anchor photo for this blog post is wall art from Starbucks.  As more and more Starbucks stores are transitioning to the 'heritage' or 'green' store design, I am seeing this particular picture less often in the stores.  I think it represents an older era of Starbucks store wall art.
Selected pages from the little booklet are below.  In particular, I love the Ethiopia poem.  It is about pages 18 and 19, so be sure to click on it.
Does anyone else remember this booklet?  I assume it dates from about five years ago.  The Duetto Visa Card is no longer available. I've seen a couple of different dates announcing the exact introduction of the Duetto Card but it seems it was initially launched in October 2003, and discontinued in February 2010.  An article discussing the discontinuation of the Duetto Visa Card is here.
This is an open thread. Chat about poetry, the Duetto Visa Card, or anything Starbucks-related.
Related posts