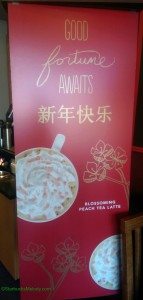 On February 17th, when U.S. Starbucks stores launched the Tiramisu Latte, Starbucks stores in Canada introduced their new drink: The Blossoming Peach Tea Latte.
The Blossoming Peach Tea latte is like a modified earl grey tea latte: It uses an earl grey Teavana tea sachet, Blossoming Peach syrup, and comes with whipped cream and candied peach topping.
I decided I would go to Canada and try it. I hadn't been to Canada since my trip about one year ago to enjoy a Maple Macchiato. Once again, the border patrol really thought my explanation for coming to Canada was a little unbelievable. It's funny but I've discovered that if you say, "I'm coming to Canada to go to Starbucks" you will be met with disbelief by the Canadian border police. They'll will always ask, "Where do you live?" and my reply is "Seattle." I've discovered that you have to tell them a specific Starbucks, and even then the border police are bewildered and ask, "How long are you staying?" I've said things like, "Oh I might stay about fifteen to thirty minutes and turn around and drive home." Within the past few days, I'd had some email conversation with a Starbucks partner at a store in Port Coquitlam, so I named this store as to where I was going. Indeed, this is where I headed to, in search of the Blossoming Peach Tea Latte. I had to tell the border police woman that "I'm addicted to Starbucks too." I didn't think there was any real chance that I was going to get refused entry to Canada, but I now know it takes a long time to get through the border crossing when you're traveling to Canada just to "go to Starbucks."
About thirty minutes after the border crossing, I found myself ordering the new drink, complete with my own favorite modification: the milk at about 140 degrees.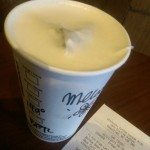 When I arrived at the Port Coquitlam Starbucks, the partner with whom I'd been emailing was on bar. She immediately recognized me and knew just who I was when I said, "Please write my name Melody on the cup." Jessica, the Starbucks Canada was great fun to talk to. I think somehow in the jovial moment of "You're Melody!" and the great conversation that followed, my lovely whipped cream and peach topping got forgotten from my drink!!
I thoroughly enjoyed my Blossoming Peach tea latte. It's very sweet but really delicious. It's not a heavy drink. Sometimes espresso drinks with a lot of espresso, syrups and sauces are a little overwhelming to me, like having a meal in a cup.
The syrup bottle tells you it is Peach Blossom. I'm not really sure how that tastes different than a plain peach syrup – it may be a little sweeter.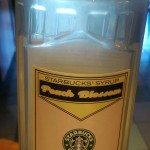 While I was there, I noticed that one partner working was wearing a fun Starbucks Canada t-shirt, so I snapped a picture of him too:
Feel free to talk about the Blossoming Peach Tea Latte or anything Starbucks related.
Related posts