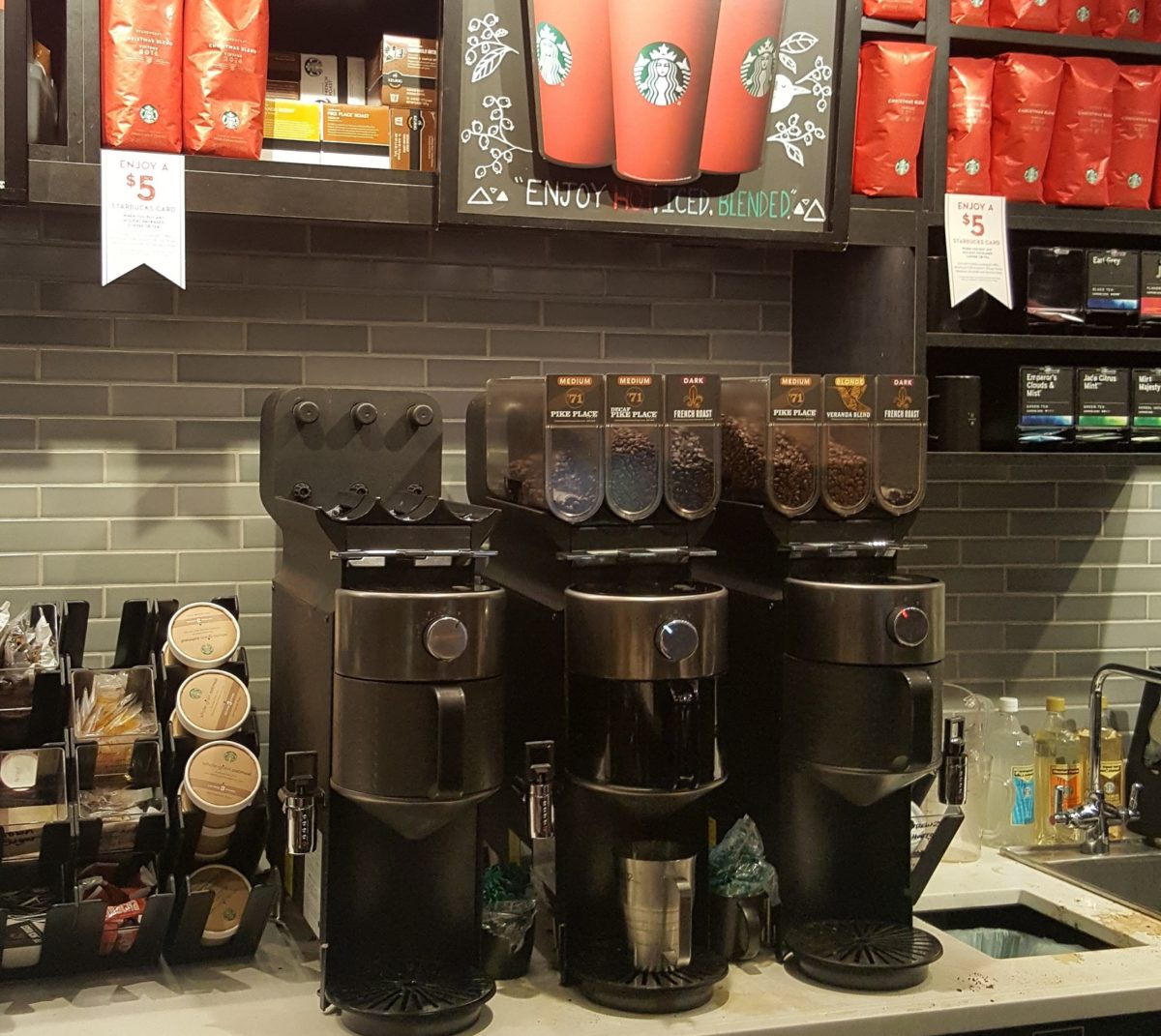 On December 7, 2016, Starbucks hosted their biennial  investor relations day. The innovation segment was lead by Sharon Rothstein (executive vice president, chief global marketing officer) and her announcements were exciting! What are you going to see at your Starbucks in the future? Let's dive right in:
CLOVER X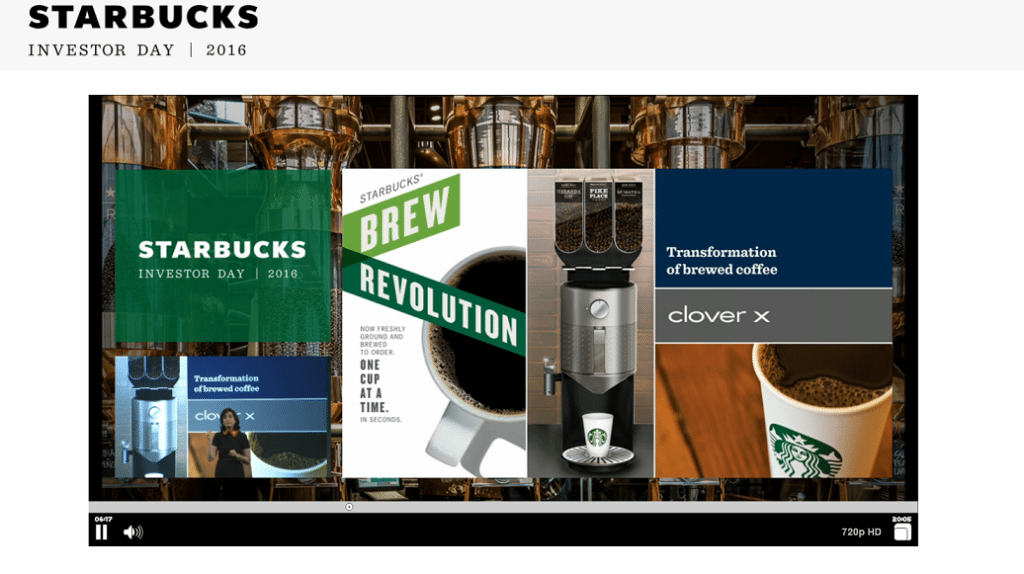 Sharon Rothstein unveiled "Clover X". This is a coffee brewer that makes a perfect, single cup of coffee in  under 30 seconds. It is not a home-use brewer, rather this is for the stores. Think about it: No more pots of coffee waiting for a customer to order a cup. No more brewing coffee every ten minutes or so.
Starbucks has been testing and developing this technology for more than five years. It was built on Clover technology and constantly refined and improved. I caught a glimpse of an extremely early prototype of Clover X (then called the "Arrow" by Starbucks) in this article here, five years ago. In 2012, I saw it again in testing here. Shortly after I published these two articles, I was contacted by Starbucks and asked to come into the SSC and see another prototype version of Clover X, in an innovation lab deep inside the headquarters. I was literally shown a windowless room with equipment innovation in progress. Since that time, I've slowly been watching the Clover X machine come and go from testing, as it is constantly improved. This is true innovation. Think about what this means for the stores that get a Clover X. Right now, baristas brew a new batch of coffee every 8 minutes to every 30 minutes, depending on how many varieties of coffees they're offering. Brew cadence will end.
The Clover X means that partners will no longer have to worry about brewing coffee every 8 to 30 minutes. Your coffee will always be available in less than 30 seconds.
Clover X will give customers the ability to order bold coffee, blonde, Pike Place Roast, or decaf at any time of day. No need to have a pot of decaf waiting for customers.
Clover X will reduce waste of ground coffee and brewed coffee. No more pouring half a batch of unsold brewed coffee down the drain.
Here is what Clover X looks like a store: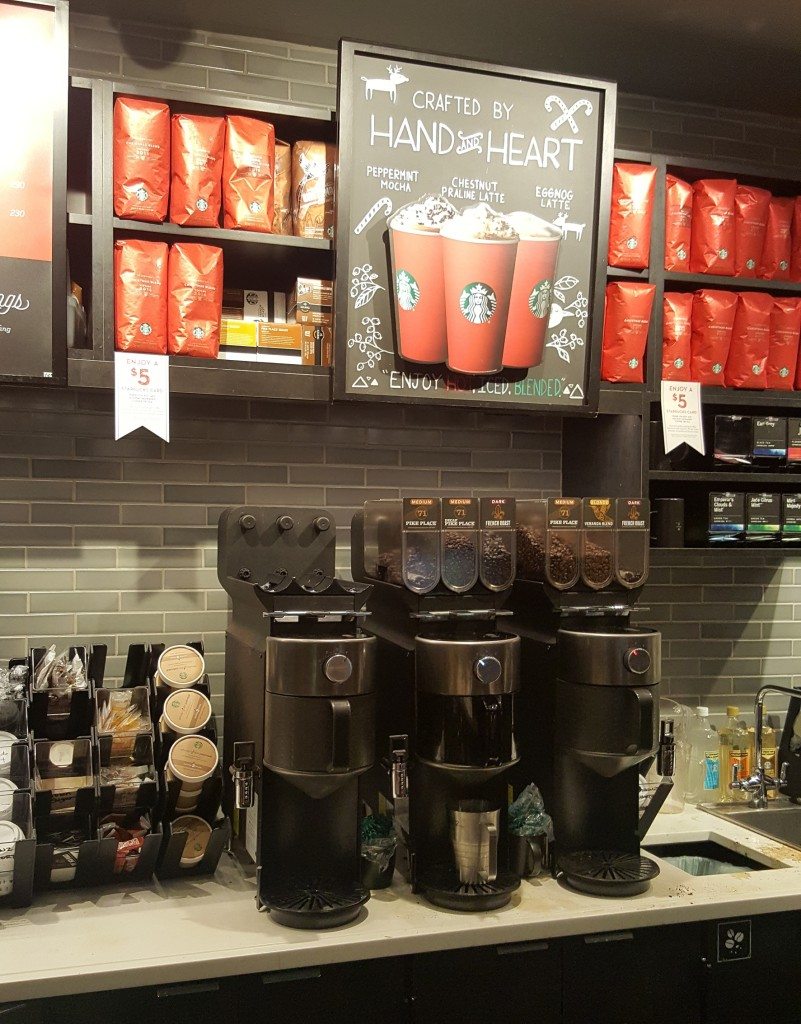 Clover X represents five years in the making and extensive testing to get it right. I'm totally excited about this. I'm emphasizing the extensive development because it's been tested to handle everything from a morning rush at a store to when stores get orders for a coffee traveler.
Finally those who want dark coffee late in the day will never have to wait for a pour over. I've had coffee from the Clover X many, many times. You can't tell it's not brewed in a typical Bunn Brewer. For months now, the most recent phase of testing for the Clover X has been in 48 Milwaukee stores and 5 Seattle locations. (My photo is from the store at 505 Union Station in the International District neighborhood in Seattle, in case you would like to visit.)
Starbucks describes a national roll-out of these brewers coming in 2017. Yes!
(Edit on December 9, 2016: I want to quickly address some of the comments that I've seen on social media:
First off, yes, this can handle a morning rush.
Secondly, there is absolutely no loss of coffee quality. If anything, coffee quality is improved. Never again will you have a barista tipping a large pot of coffee to get the last of a pot. You'll no longer be handed a cup of coffee that has been sitting too long. You won't ever get  grounds in your coffee. And the flavor is fantastic. As I mentioned, I've been following this project for years. The 505 Union Station location mentioned in this article is close enough to where I work that I've been able to enjoy this Clover X brewed coffee many times.
Thirdly, when I described this as "single serve," I only meant to say that this produces one cup at a time. There are no pods. I want to make it clear that this Clover X brewer does not create any increased environmental impact over the previous coffee brewing system. If anything, because there is no waste, the long-term accumulative impact of no waste is a benefit to the farmers: coffee grows on trees and one tree only produces (roughly) about a pound of coffee each year. It takes millions of coffee trees to produce coffee for Starbucks. Anything we can do to prevent coffee waste is a good thing: Coffee trees are precious. I will, however, follow up with media relations to make sure there is NO increased environmental impact with the Clover X brewer. Clover technology is a very high tech vacuum press technology. )
WHITE TEA:
I don't have a lot to say about this, but in passing I noticed that Ms. Rothstein mentioned that a white tea would be coming to the Starbucks lineup this Spring. This means that customers would have the option to choose from one of four iced teas. Right now, a customer can order iced shaken Teavana Passion Tango, Black Tea, or Green Tea at Starbucks. Adding in a white tea would be a great option! Unfortunately I don't have any more details than that, but please let me know if you see a store with a shaken iced white tea option!
(The image of the 3 iced teas used here comes from the Starbucks newsroom.)
GLUTEN FREE BREAKFAST SANDWICH: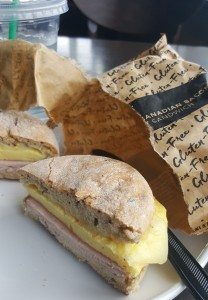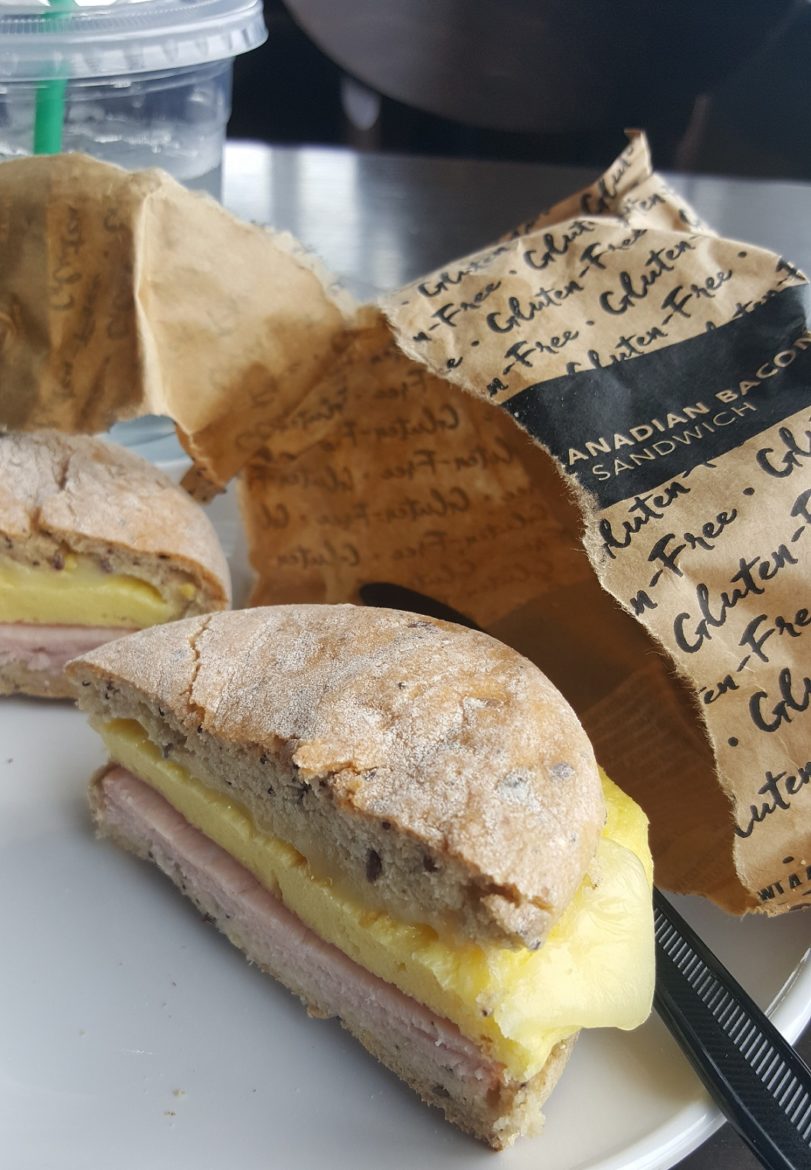 Starbucks also announced that they will be launching a national certified, gluten free breakfast sandwich. It sounds like this too might be a Spring offering.
By the description given by Ms. Rothstein, it sounds like she was describing this breakfast sandwich here:
Starbucks tests a gluten free breakfast sandwich in 350 stores.
I tried the certified, gluten free breakfast sandwich when it was in testing during the summer, fall season this year. It's really an impressive breakfast sandwich. I think this too is a good idea!
SOUS VIDE EGG BITES: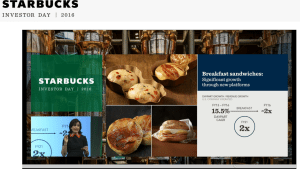 Ms. Rothstein announced a new food option coming in January 2017 (I think that's when they're coming). These too sound fabulous. The egg bites would come in two flavors:
Bacon and Gruyere – Cage-free eggs with aged Gruyere and Monteray Jack cheese, topped with apple wood smoked bacon.
Egg White and Roasted Red Pepper – Cage-free egg whites with Monterey Jack, and creamy cottage cheese, with spinach and fire-roasted red peppers.
These are also something that I've been watching and waiting for. These were tested in the Juanita area of Washington (in the city of Kirkland) this past summer: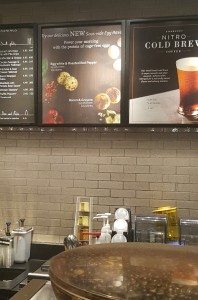 Weigh in! That's a lot of innovation coming right around the corner!
Be on the look out for these new things and many other new food items! Starbucks announced that a regional release of soup is coming to some stores. Please let me know if you see soup in a store too!
Related posts