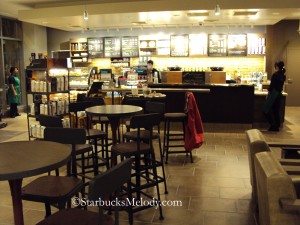 Today (February 3, 2012)  marks the grand opening of a brand new Starbucks in downtown Seattle.   Interestingly, it has a fish tank !  It appears that the fish tank is actually part of a shared wall with the adjacent business, but it certainly is visible from the Starbucks, so you'll be able to have your coffee and watch the fish if you want.
I walked by the store on January 29, 2012, and took a few photos of the store still under construction.  Please note, these photos were taken through windows which were mostly covered, and so the photos came out a bit blurry.
So here are the photos from January 29, 2012:
This store doesn't have a Clover brewer yet, but there is definitely ample space for it, and I am hoping that it will add one.  I think the store manager, Tiana, is fighting for one!  This store is located in a LEED Gold Certified business building, and the building owners maintain the fishtank that can be seen in the photos below.  If you want to visit here is the address:
Starbucks store 13011
2001 – 8th Avenue
Seattle, WA 98121
(206) 467 5103
Tiana had been an Assistant Store Manager at the Pike Place Starbucks before this store and I met her there previously!  She has a lot of strength in understanding Starbucks' history, and brings a great Starbucks culture for her partners and her customers.  I have always joked with Tiana that she is a famous partner!  Starbucks featured her in a You tube video about a year ago.
By the way, this store is located almost across the street from the Seattle Police Department's West Precint, so don't make any trouble in this store! 😉 😉
I thought I'd point out some of the aspects of this store that I like.  I noticed that the espresso bar area has what is called a "live edge," meaning that the finished wood working retains some of its natural contours and grooves, rather than having a perfectly level and flat edge to the wood.  I am a fan of the natural beauty of a "live edge" to wood, and this bar area has a lot of contour and shape to it.  You can kind of see what I mean here in these two photos:
In the back of the store there is a hallway which leads to the restroom area.  The hallway wall has large coffee stamp posters for some of the international series of Starbucks coffees, such as Muan Jai and Peru.  I definitely liked this touch.  Starbucks produces a few very rare coffee offerings just for specific international markets, and the coffee stamp designs in this store represent some of those coffees: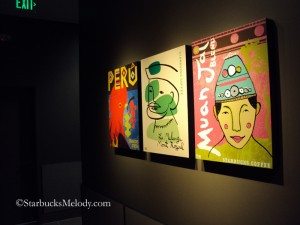 And of course, I want to point out that there are comfy seats near the fish tank: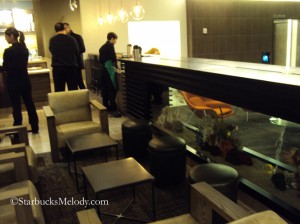 I hope you get a chance to visit this store!  Here are a few more pics! Enjoy!
Related posts