A beautiful new Starbucks in a hospital in Australia!
Melody, November 18, 2010
21
3 min

read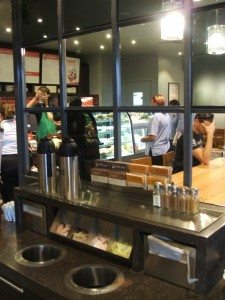 Starbucks recently opened a beautiful new store in Australia!  It is located in a hospital in Brisbane, and replaces a previous small kiosk that operated there since 2005.  This remodel is a major overhaul, and obviously now a much larger space than the previous kiosk.  The new store features the design style of "re-purposed wood" and a heritage look.  I owe a big thank you to a partner in Brisbane who took all of these photos the day of the store's grand reopening and sent them to me right away!! THANK YOU!
I believe that the exact date of the grand opening of this store was Tuesday, November 9, 2010.  This store's whole bean coffee offering includes some limited international market coffees, and some well known "core" coffees universally found at Starbucks stores all over the world.  The coffees include Breakfast Blend, House Blend (available in decaf), Colombia Narino Supremo, Organic Shade Grown Mexico, Sumatra, Sulawesi, Timor Larosa'e, Kenya, Arabian Mocha Sanani, Verona, Cafe Estima Blend, and Espresso Roast (available in decaf).
I have mentioned a few of those coffees before in previous blog posts, in case you wish to read more about them:
In terms of the store design, it is obviously of the LEED-inspired style that has been featured a number of times on this blog.  I hear that there are three seating areas and that one of the great things about this store's design is that it is disable-friendly: a number of the tables are high set in order to allow access  for persons in wheelchairs.  When Starbucks creates stores for hospitals, the design team does a great job of being thoughtful to the special needs of that kind of store site.  I previously wrote a blog entry about a Starbucks located in Children's Hospital in Seattle, and that post is still a favorite of mine – I highly recommend reading this blog post.  It's clear that the store was designed with great care:
Soup's on at Children's Hospital Starbucks in Seattle
Australia's holiday beverages right now include the Gingerbread Latte, Peppermint Mocha, Toffee Nut Mocha, and the store offers a special Tazo Chai Cheesecake!  I want to try that cheesecake! Food items change regularly however this store (and as is commonly found in the Australian Starbucks market) offers a daily soup.  The "flat white" is on the menu as a standard item.  For those that do not recall, Starbucks introduced the "flat white" to the UK (and other selected international markets) roughly a year ago (I don't remember exactly when).  It is a strong, small size, no foam latte.  This store offers the usual fare of full-leaf Tazo teas as well.
Lastly, if you are interested in reading some previous blog posts about Starbucks stores or merchandise in international markets, click here for the "international category" on this blog.
Thank you again for the huge help in the emails, the photos, and the information, to the partner in Australia who put this all together for me.  I enjoyed seeing this new store, and I hope you did too!
http://starbucksmelody.com/2009/09/26/the-magic-of-starbucks-aged-sumatra-whole-bean-coffee/
Related posts