A coffee cupping at Roy Street Coffee and Tea. @RoyStCoffee @Starbucks @15thAveCoffee
Melody, November 17, 2010
13
4 min

read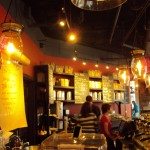 It has been a long time since I've talked about coffee cuppings on this blog so I thought I would come back to the topic again. There are two unique coffeehouses which are totally operated by Starbucks, feature Starbucks coffee, but are not called Starbucks. The two stores are Roy Street Coffee and Tea and 15th Avenue Coffee and Tea.  Both of these coffeehouses feature daily cuppings, which are free and open to the public.
I think I first wrote about cuppings back in December 2009, and so here is that old, but still relevant, blog post:
The main themes of that old post are still true:  A cupping is NOT the same thing as a coffee tasting.  A coffee cupping is the industry standard for roasters to compare coffees side by side and really learn about their flavor profiles, come up with accurate descriptions for packaging, and even determine the best roast profile for the coffee for final coffee production.  A tasting, on the other hand, may or may not be paired with food, and is a learning experience to introduce the palate to new coffees and learn about coffee as it would be enjoyed in a customer's home.  A coffee tasting is often done with a French press brew method.
Today I caught up with Jacob, the store manager at Roy Street Coffee and experienced his store's cupping.  I have featured 15th Avenue Coffee and Tea a number of times in this blog, but this is the first time I've talked about a cupping at Roy Street.  As a reminder, I suggested Roy Street for a cupping in my previous blog post, "Top 10 coffee vacation things to do in Seattle."
In order to 'brew' coffee for a cupping, a barista grinds the whole bean coffee just past espresso ground.  About 14 grams of coffee are brewed in a cup that holds about six to eight ounces of water.  The coffee brews for four minutes.  The cupping participants, or the baristas, break the 'crust' that forms on top of the coffee.  This coffee crust is not a crema and is not meant to be consumed!  The cups are arranged from the lightest roast to the boldest roast.  Once the crust has been broken, and the participants have had an opportunity to smell the aroma from the cups, the crema is then carefully and completely removed.  This step must be done carefully as not to disturb the coffee grounds which are now settling on the bottom of the cupping cup.  If the grounds at the bottom were disturbed, there can be some re-brewing of the coffee, affecting the flavor profile.
Today we cupped the following coffees which are primarily part of the Reserve line of Starbucks coffees:
Brazil Sul de Minas Peaberry (Starbucks Reserve Coffee)
El Salvador Monte Carlos Estate Pacamara (Starbucks Reserve Coffee)
Nicaragua Corcasan (Starbucks Reserve Coffee)
100% Kona (A Starbucks core coffee in Hawaii only)
Aged Sulawesi (Starbucks Reserve Coffee)
Jacob described the Aged Sulawesi as having an "oak" type flavor.  I've thought it was buttery.  The interesting thing about the Aged Sulawesi is that while it is bold and heavy in the mouth, it is not too complex.  I don't pick up the full range of flavor nuances that I do in something like the Kona.  The Nicaragua Corcasan has lots of wonderful chocolate notes in it.
A customer joined in, who was in Seattle visiting from Colorado.  I had absolutely great fun talking with "Valerie" from Colorado.  She had lived in Seattle in the early 1990s and remembered the Starbucks of that era.  Somehow it came up in conversation that once upon a time, a long time ago, there used to be a Starbucks Nordstrom Blend of coffee.  Starbucks had previously partnered with Nordstrom and made a blend of coffee for them.  I remember seeing it sold at the Nordstrom espresso bar at Northgate Mall in the 1990s.  I would guess this was somewhere between 1993 and 1996.  I haven't met too many others who remembered the Nordstrom Starbucks coffee blend.  I would love to have a photo of it, or something to write about it.  Valerie stated that the Nordstrom Blend had Colombia coffee in it, but didn't know the exact recipe.
While I was there visiting Roy Street, barista-Tera was on bar and I snapped a quick photo of some gorgeous latte art by this partner.
Roy Street Coffee and Tea is almost one year old too!  This store first opened November 18, 2009.  This was my first blog post with a look inside Roy Street Coffee – Still a nice post!
Enjoy the photos!
Related posts