Featured Clover – Reserve Starbucks: Right off I-5 in Sacramento!
Melody, May 25, 2014
4
2 min

read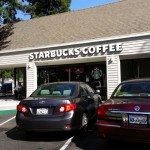 Last September, Starbucks opened an all new, beautiful Clover – Reserve Starbucks store in Sacramento. It's right off of I-5 and could not be easier to find. If you're commuting through this way, this is a great little store to go visit. It's a café only store in a larger shopping area. The exit from I-5 is the Pocket Street exit in Sacramento.
Here's the address: 7600 Greenhaven Drive, Sacramento, California 95831. The phone number is (916) 391 – 2365. I had been driving for a very long distance (had started the day in Oregon) and had heard that this was a super easy to find Clover store off of I-5. I dropped by and ordered an Iced Kenya. I stayed quite a while as I wasn't excited to get in my car and drive another six hours to Orange County. Later, I ordered an Iced Passion Tea and a got a mozzarella panani sandwich. I was very impressed at the register barista, Carlos, who remembered my name from the first drink, when I got the Kenya, and knew the Starbucks' refill policy backwards and forwards. I've heard this store's grand opening was September 26, 2013.
Here's the beautiful Clover area: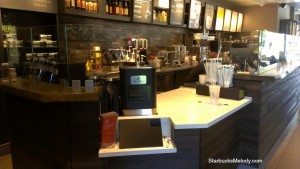 I noticed that my table had the words "Reclaimed Urban Wood" stamped in it. I didn't notice that on any other tables so I'm not clear if it's just the one table that is reclaimed wood or not. I like hearing about Starbucks using reclaimed wood.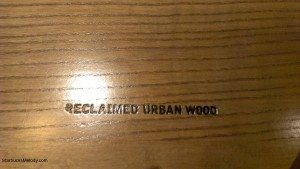 This is a perfect little store to dash into off of I-5! And it has a huge parking lot because it shares a parking lot with a grocery store. Hope you get to visit. I met two partners – Mitch and Carlos – both who were a delight to talk to. I'm sure you'll have a great experience too. (PS: I can't quite resist writing a new blog post while on vacation!)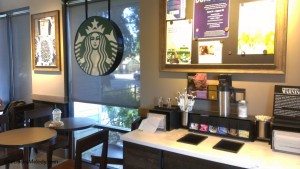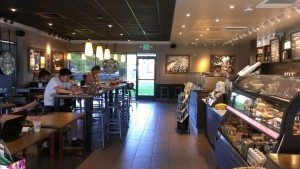 Related posts