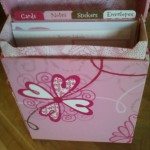 Memorable moments in Starbucks merchandise history continued:  A loyal reader of this site sent me an email of a Valentine's Day box sold at Starbucks not too long ago.  I couldn't pass up the opportunity to dive one more time into the era of Starbucks merchandise long gone by.  This little pink box, complete with cards, envelopes, and some stickers, was too adorable not to mention here.  The email to me was inspired by yesterday's blog post about the Starbucks paperclips.
Previous StarbucksMelody.com blog post on Starbucks paperclips
Valentine's Day is just about one month from now, so this also seems like a good time of year to chat about Valentine's merchandise.  I hope Starbucks gets brave and experiments with a wider variety of merchandise soon.  I am quite ready to move away from the merchandise trend of 'yet another Via Ready Brew contraption'.
The reader who emailed these photos to me thinks this box dates to about the early 2000s era of Starbucks.   Enjoy this Valentine box!
Related posts