At the beginning of January 2011, I asked you to send me a photo of your favorite Starbucks mug and tell me why it is your favorite.  Here was the blog article asking for your pics:
Your favorite Starbucks mug – 30 easy $5 Starbucks gift cards
This is what you sent me: your mug photos and a short story or couple of sentences to go with the photo.  Thank you everyone!  (Click on the pics to make them larger.)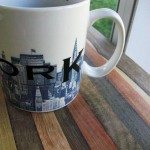 (1)  New York City Mug – Submitted by @CoffeeVanilla in Florida.
"I happen to think that this mug is one of my loveliest Starbucks mugs and is special to me since I've only been to NY once. Also, I won this mug in a Daily Shot Of Coffee contest and that makes it all the more special."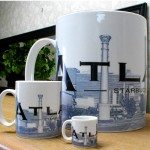 (2) – Set of 3 Seattle mugs – Submitted by @GaStarbucksGirl in Georgia.
"These are without a doubt my favorites from a very large collection, and this style 'City Mug' is my favorite of all the City Mug designs.  I collected these City Mugs in 2002.  The large one holds about two gallons, and I believe it was used for display purposes in the Atlanta Starbucks stores at that time.  The medium one holds 18 oz., and the small one is from the Christmas ornament City Mug collection."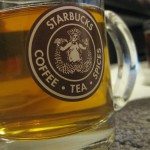 (3) – Original 1912 Pike Place clear mug – Submitted by Jay in Detroit.
"My parents brought this back from the Pike Place Market store in Seattle.  I visited the same store six years ago on my high school senior trip.  Feels like it brings our Starbucks experience full circle."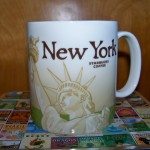 (4) – New York City Mug – Submitted by JLove, a partner in Utah.
"This fabulous mug represents love, generosity, thoughtfulness and a dream.  Because of the generosity and support of family and friends, my two teenage kids were fortunate enough to go on a trip to New York last Spring.  Knowing that I LOVE Starbucks and would someday LOVE to go to New York City, they bought this mug for me."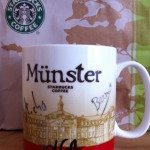 (5) – Münster City Mug – Submitted by DJ Salsa Dave
"I love Münster because Münster is the most livable city in the world!"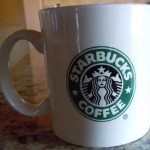 (6) – White mug with Starbucks logo – Submitted by Lisa in Wenatchee.
"This is a mug my mother in law gave me.  It's my favorite because she is my favorite person to get Starbucks with!  We are very close and love to get Starbucks together.  It is a few years old."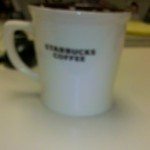 (7) – White Mug – Submitted by Amy in Boston.
"My husband who is not a coffee drinker, know how much I love it so one day I was at work and had a bad day, I came home and he suprised me with this mug and a $25.00 gc and it really made my day. I keep it at work because while I'm at work and am having a bad day, I know I have someone that means a lot to me. In addition, having anything coffee related makes me a happier person ;)."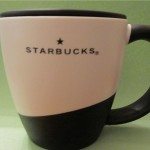 (8) – 2002 mug with rubberized handle and bottom – Submitted by YoDa in North Carolina.
YoDa says, "I purchased this mug when Starbucks first came to our town in 2002 (bottom of mug says Starbucks Barista 2001).  I love this mug because the handle and the bottom are, for lack of a better word, "rubberized."  Because the mug is rubberized it makes little or no noise when setting it down, like a porcelain mug does.  Therefore, I use it early in the morning when the family is still asleep and I am enjoying my first coffee of the day."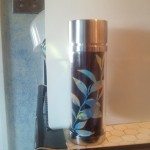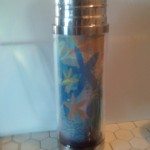 (9) – Tumbler that changes designs with hot liquids – Submitted by @Lyracole.
She says, "I believe this was bought at the Starbucks at 113th and 124th in north Kirkland.  Justin bought it for me because he thought it was amazing and he knew I'd like its special properties.  It is made with an interesting clay formulation that hold the flavors of what is put in it.  I think it is meant to be used with tea, but coffee and cocoa are also recommended.  And, the outside graphic changes with the addition of hot liquid."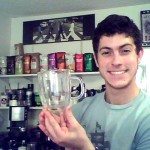 (10) – Clear glass mug – Submitted by Taylor the Texan Latte Boy.
He says, "this is my favorite of my Starbucks mugs as it is simple, versatile, and elegant.  I believe this glass "mouth blown" Bodum mugs came out in 2009, and some stores still have them!  Because it is double-walled, the first time I drank coffee from it I burned my tongue.  I have since learned my lesson and I love taking it to work since it is so light weight and I can see the separation of my drinks (milk/foam beverage/ whipped cream)!"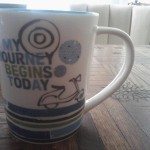 (11) – My journey begins today mug – Submitted by Darkkatpouncing in Redmond, WA.
"I bought this mug for myself in the Fall (November?) of 2008 if I remember correctly. I was at a point where I was making positive changes in my life – this mug was fitting :)"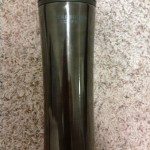 (12) – Grande tumbler – Submitted by Nicholas Cardot in Amboy, Illinois.
"About one month ago I walked into Starbucks for the first time and ordered a Vanilla Cappuccino.  Although I have since decided that my favorite is the White Chocolate Mocha, I fell in love that day.  Three days later, I purchased this mug and now I work to keep it filled with their amazing beverages, as much as possible.  Plus,  I get the Venti for the price of a small at the Starbucks that's on post."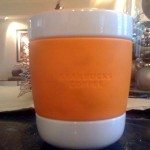 (13) – Orange 2008 mug – Submitted by JetBlue711 in Eldorado Hills, California.
"This is my all time favorite! Orange is my favorite color and it was the first retail product I bought with my partner discount, it will always have a special place in my Starbucks memories. Plus it has no handle! My favorite mugs have no handle (or a large enough one) and my favorite tumblers have handles."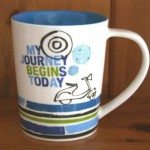 (14) – My journey begins today mug – Submitted by Jenni in Folsom, California.
"I bought this mug in September 2008 from my old store at Madison and Dewey, in Fairoaks, California.  I found this mug at a time in my life when I was truly setting out a new direction.  I was a relatively new Starbucks partner at a new store in a new place, wondering what path I was about to discover.  It's been a few years now, but this mug still stands for me as an icon of that period of change and growth and every time I see it, I am reminded that my journey always begins *today*."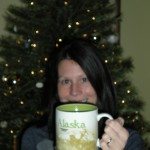 (15) – Alaska Mug – Submitted by Wildflower Eyes in Arizona.
"This is one of my most recent Starbucks mugs, it was given to me as a gift from a friend who took a trip to Alaska.  She had to go into the local Starbucks 2 or 3 times to keep checking to see if they had gotten any in stock yet.  It has inspired me to take an Alaskan cruise that leaves out of Seattle so I can combine both places I have wanted to see in one trip!"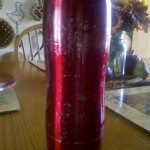 (16) –  A  well worn red tumbler – Submitted by Suzanne in New Jersey.
She says, "This is one tough tumbler that has done it's share of tumbling. It has been dropped, kicked, rolled down the stairs, fried in the summer sun, frozen in the snow and put in the dishwasher 500 times, yet somehow it still keeps my coffee hot! It's latest feat of acrobatics was being dropped through my open sun roof, full of raspberry mocha, yet somehow not letting a drop leak from it's spout. I might be old, it might not be all that attractive, but it has never let me down. Date of purchase: 2007."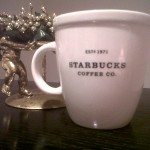 (17) – Big white mug – Submitted by Dee in New Jersey.
"My favorite Starbucks mug is this big, white one. I actually began drinking Starbucks in 2005 but I purchased this in 2002 because I had gone in with my mom and thought it would be great for hot chocolate snow days. I love the simplicity of it and the way it fits comfortably in my hands. It may not be fancy but it is sturdy and durable and has lasted a really long time without any chips. It's my first official mug (let alone my first Starbucks purchase) so I would consider it my favorite one."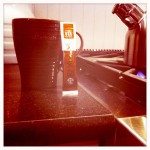 (18) – Starbucks mug paired with Via – Submitted by Adam B. in Washington State.
Adam says, "this is my favorite Starbucks mug, as it is 12 oz making it easy to eyeball 8 oz for Via.  Plus it's nice looking. :)"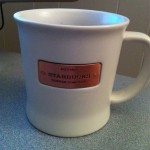 (19) – Mug with brass 1971 – Submitted by @Oceanwest.
"Just picked this one up a few weeks ago just before Thanksgiving and my birthday.  I like that fact that it says "Estd 1971 – kind of like me! And the brass gives it that Steampunk feel ;)"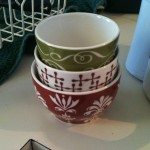 (20) – Tea cups – Submitted by Johanne in Port Orchard, Washington.
Johanna says, "these are nesting tea cups purchased in 2010 by my mother for me.  I love these tea cups for their different sizes and patterns.  I also think they are cool for drinking latte or tea, whichever I feel like at the moment."
(21) – Rusty-orangish color mug – Submitted by Linda in Arizona.
Linda says, "this is one of two sister mugs I gave my daughters last Christmas.  This is my 'loaner' mug."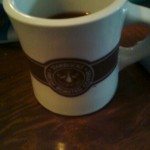 (22) – Pike Place diner style mug – Submitted by Dottie in California.
She says, "this is definitely my favorite Starbucks mug and I have quite a few.  I drink from it every day whether or not I am drinking Starbucks coffee.  I have had it for years.  It is the old Siren and I love it."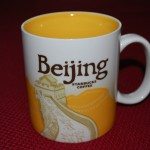 (23) – Bejing Mug – Submitted by Allison in Bergen County, New Jersey.
Allison says, "This is my favorite Starbucks mug because it reminds me of my amazing trip to China this past summer. After arriving in Beijing, my roommate and I were able to successfully navigate our way through a section of Beijing to get to Starbucks each day, and made friends with the baristas there who had our favorite coffee ready every morning for us! Now every time that I drink out of this mug, I think of that trip and the wonderful people that I met there."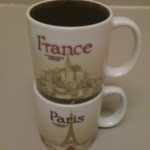 (24) – Paris Mug – Submitted by Robert in San Antonio.
"They're my favorite Starbucks mugs because I got them in the Starbucks location located inside the Louvre Museum in Paris, just a few months ago (October, 2010).  It was my first time in the Louvre, and as an artist, myself, the only thing that made it better/a more enjoyable experience was that I was able to sit down in the middle of it to sip some wonderfully unique (French) coffee – my other great indulgence!"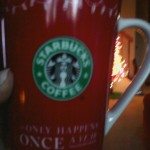 (25) – Christmas Mug – Submitted by DeniseR.
"Although I use this mug only one month of the year (December), I LOVE this cup.  This is a "tall" from 2005, and the talls seem to be seldom around anymore.  It's Christmas; it's red, I love 'string of lights' as is on the cup, so it is perfect."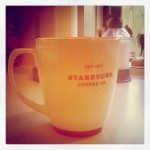 (26) – Big white mug – Submitted by Chris from Houston.
Chris says, "here's my favorite coffee cup. It was given to me by one of my good friends, and my friends mean everything to me, so it makes it extra special. Plus it's big and holds lots of coffee. Besides that it has red on it and red is my favorite color"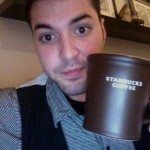 (27) – Big brown mug – Submitted by Cam in Texas.
Cam says, "this cup is a classic because its perfect and sturdy! I use if for coffee AND soup. It just makes me happy."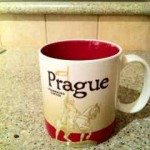 (28) – Prague Mug – Submitted by Lorene in Windsor, California.
She says, "I am a travel agent, and last summer (2010), I sent a client on a riverboat cruise down the legendary Danube.  She knew how much I love Prague and the Astronomical Clock, and a huge Starbucks fan.  When she returned to the states, she surprised me with a thank you gift.  My very own mug from Prague.  How cool is that?"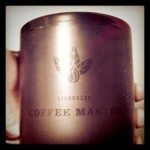 (29) – Coffee Master Mug – Submitted by Jeff C. in Washington State.
Jeff didn't write out three to five sentences on why his mug is special, but obviously it is a cool mug! It is a coffee master mug!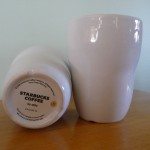 (30) – Solid white small mug – Submitted by ChicagoDave.
Dave says, "the reasons I like these mugs so much is because they are eight ounces, my favorite Starbucks size (short); they are double-walled which keeps my drink nice and warm; and the size and the warmth remind me to enjoy/ savor every moment."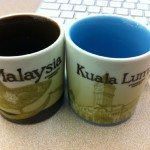 (31) – Malaysia Starbucks Mug – Submitted by Matthew in Washington State.
"I got these two tasting cups/mugs as a gift from the Starbucks Malaysia team on a trip to Kuala Lumpor to talk all things digital with managers from the Asia-Pacific region.  The cups remind me of the wonderful people I met on the trip."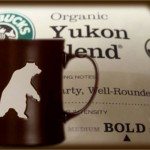 (32) – Yukon Mug – Submitted by Tobias Fornell.
Tobias says, "Being in the military, I recieved this mug last year as a farewell gift from our chapel leadership team just before moving on to the next duty station. Since it was given to me, I have taken my morning cup of Starbucks coffee in it nearly every day. I love its smooth elegance even within its simplicity, and also that it represents one of my favourite Starbucks blends (hard to pick a single favourite blend). I know it isn't one of those exciting, super-rare, inaugural Pike Place mugs that people would probably rather read about for this contest, but it's mine, it has meaning to me and I enjoy using it. Semper Fi."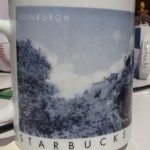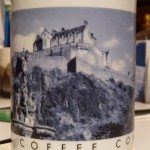 (33) – Edinburgh Mug – Submitted by Geoff in Portland, Oregon.
"I got this mug on a visit to Scotland.  Edinburgh was easily my favorite city and the picture of the castle reminds me of looking up from the park below to see the "one-o'clock gun" being fired from the castle every time I drink my morning cappuccino.  Starbucks has some excellent city mugs, but some years have been better than others.  This and the architect series are my favorites."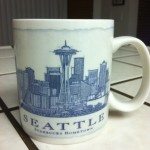 (34) – Seattle City Mug – Submitted by @Beautea97
She says, "I purchased this mug on my first trip to SeaTea Airport in 2008.  The trip was to visit our son, who had recently moved to Seattle from California.  The mug carries a special meaning to me as our son's new home and new life.  He is currently proudly serving the Seattle community as a Seattle Police Officer."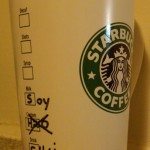 (35) – Porcelain to go mug – Submitted by @AmazonV in Philadelphia, PA.
Nicole says, "I cannot recall when I got this mug but it was around three years ago when I started going to Starbucks daily with my co-workers and wanted to stop wasting paper cups.  I love this mug as it is just like a paper cup, but has a handle.  Strangely enough I spill less tea walking the block back to work when I use this mug as opposed to a paper cup with a lid.  The partners were always perplexed over how to write my drink on my mug, so I did it for them in ink!  Every partner I have given the mug to has been amused and commented on it.  The partners all know my drink now but still love my mug."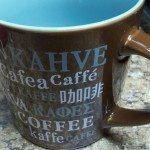 (36) – Multi language mug – Submitted by Diele in Arizona.
"Though purchased recently in 2008(not as much history or nostalgia as some of my mugs and others), this mug is truly my favorite as it captures my love for not only languages, but coffee! I have dedicated the last ten years to studying languages and adamantly believe that coffee is the universal beverage that brings human beings from all countries, cultures, and religions together to slowly sip away the day's worries and reminiscent of old adventures with old friends."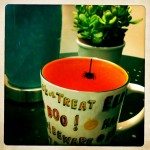 (37) – Halloween mug – Submitted by @akarisame.
He says, "here is my favorite mug.  I find it is the perfect size (grande) to perfect shape and handle placement.  I  like the spider on the inside, it is cheeky fun. 😉  It was purchased in 2007 for Halloween."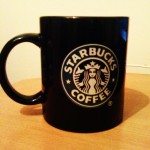 (38) – My Westin Mug – Submitted by Sarah in Coventry, England.
"Such a tough choice as I have several fantastic mugs but this one has to be my ultimate favourite and I haven't seen another one like it anywhere else.  I picked this mug up on a trip to New York City in November 2006.  I checked into the Westin Hotel and as I entered my room my face lit up, to my surprise they had a we proudly brew Starbucks sign and these mugs were there for us to use with several packets of Starbucks Coffee after a week of using this mug I got very attached to it so the nice people at the reception desk let me keep it!   It now sits on my "retired Starbucks mugs" shelf ( as its irreplaceable I have stopped using it but its still my favourite)."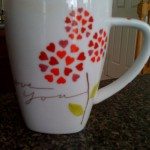 (39) – I Love You mug – Submitted by Lori.
She says, "this is my 12 oz "I love you" Sbux mug  that I use daily.  It is very special to me because my husband bought it for me while we were on our honeymoon."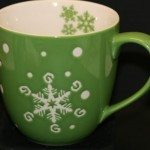 (40) – Green snowflake mug – Submitted by Liz in Broomfield, CO.
"I love this green snowflake mug from 2007.  I bought it over the holidays in Coronado, CA in 2007.  The green ones were rare while the red and blue could be found anywhere.  I love to make my morning oatmeal in the cup."
*****
This little mug contest was a learning lesson for me.  I left the contest open for almost a full month, thinking it would take that long to get 30 emails with pics and stories.  What actually happened was that 90% of everyone sent in their pic and story within the first two weeks of when I announced this contest.  I had a long list of instructions.  Those mostly were ignored.  Such is life!  I asked for addresses though I understand that many people are private and don't want to send an address.  Addresses were for gift cards.  I ended up with 40 photos and stories.  I will just send a gift card to every single person who sent me a mug photo and story – all 40 of you.  Every single one is fantastic, and it is too hard to sort out just 30 of them.  Many people did provide me with an address, but if you think I need your mailing address to mail a $5 gift card, please email me at Melody@StarbucksMelody.com.
I really appreciate all the great stories and photos.  This is fabulous.  Next time I'll do a better job of being clear and I won't hold open the submission period for a whole month.  I think I might have annoyed a few people who expected to see a blog post sooner, so the wait seemed super long.
This was a lot of fun for me (despite my poorly thought out blog contest), and I hope all of you liked it too.  Enjoy!  Feel free to comment!
i believe this was bought at the starbucks at 113th and 124th
in north kirkland (juanita).  justin (@clockworkcrow) bought it for me
because he thought it was amazing and he knew i'd like its special
properties.  it is made with an interesting clay formulation that
holds the flavours of what is put in it.  i think it is meant to be
used with tea, but coffee and cocoa are also recommended.  and, the
outer graphic changes with the addition of hot liquid
Related posts