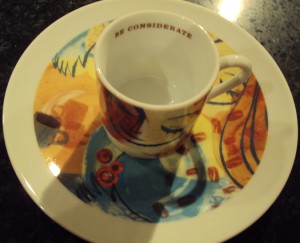 Take a look at these really lovely cups and saucers produced by Starbucks in 2005 for the Leadership Conference.  I don't have a lot to say about them since I don't know the background story behind them.  On the bottom of each saucer are the words, "Made exclusively for the Starbucks North America Stores 2005 Leadership Conference."   These six small cups (likely two or three ounce cups) and saucers are from the Ballard Goodwill in Seattle.
Each of the cups and saucers has drawings depicting the Green Apron Book "Five Ways of Being."  The ideas listed as the five ways of being are the cornerstone to really what the brand is all about.  I absolutely think that any person who takes to heart all five of the "Five Ways of Beings" will learn and gain valuable lessons that are useful for any thing you do life: any job, any challenge can be responsibly approached by the "Five Ways of Being."
These are the Five Ways of Being:
Be Welcoming – Offer everyone a sense of belonging.
Be Genuine – Connect, discover, respond.
Be Knowledgeable – Love what you do. Share it with others.
Be Considerate – Take care of yourself, each other and the environment.
Be Involved – Connect with one another, with the company, with your community.
The sixth cup and plate in this set is "Why We're Here."
I found these on ebay recently, and it seems like originally these came with very nice cardboard box packaging, though unfortunately, I don't have that.
As I read through the 5 Ways of Being, I remember that I love them.  I already said above that I think these can be applied to any profession.  There are cute little cards that partners can give each other that also have the 5 Ways of Being philosophies on them.  One barista, who does read this blog, once gave me one of each of the little cards with a note written on each one.  So sweet!
Does anyone know the story or the history behind these cups and saucers? This is an open thread. Feel free to talk about anything Starbucks-related.  I have a couple more blog articles coming up that focus on stores again, but I didn't want to do too many store reviews back to back.  I need to post the coffee tasting winners too.  However, I'll be out of town over Memorial Day Weekend, so please don't be surprised if this is the last blog post for one full week.  I'm overwhelmed with things to do!  The plan is that when I come back I'll post the contest winners, another store article about a new store in Europe, and store articles from my trip.)  Feel free to browse the "categories" tab or the "archive" tab to find interesting past articles.  (I always particularly recommend the Starbucks History Lessons category.)
Related posts
Socialize

Subscribe
Join the StarbucksMelody.com mailing list to receive a weekly email with new posts.