Featured Clover Starbucks: San Clemente, California
Melody, June 30, 2012
13
3 min

read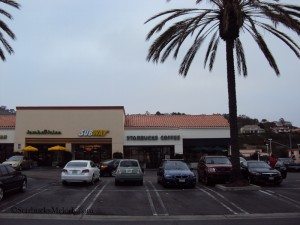 There is now a Clover Starbucks store in San Clemente, California!  I dropped by on Saturday, June 16, 2012, and met up with the district manager, Dave.  It was totally fun seeing Dave again:  I had met him on a previous trip to California at a different Orange County Starbucks, back when he was a store manager, and connected with him then.  I know I say this often, but it feels like a small Starbucks world.  The store manager, Brad, joined us for coffee too, and we sat for a bit chatting about Starbucks, and life in general.  This was an informal meeting – not a coffee tasting, but rather just casual conversation.
The store partners were very friendly.  I ordered a Galapagos Island coffee from the Clover brewer.  I thought this was interesting: the store's coffee master, Kyle (who is a 6-year partner), suggested that I try pairing Galapagos Island with squash.  An interesting suggestion, for sure.  (If anyone has tried this, please let me know!)  Kyle and I chatted a minute, and I learned that his favorite coffee is the Indonesian Blue Java.  I have to say that the partners I met were naturally and genuinely friendly.
By the way, I have a sister that lives not too far from this store, and she confirmed the same:  She said that she's been very happy with the service when she drops by and orders iced tea.
This store first opened January 19, 1996, and then it went through a major remodel last September.  The Clover was launched at the end of October last year.
If you want to visit, here's the store's address:
Starbucks #670
638 Camino de los Mares
San Clemente, California
(949) 496 – 5900
Here's this pretty store!
By the way, if you like reading about and seeing Clover Starbucks photos, I have a category of them here. Generally speaking, the store reviews that are Seattle stores are all spontaneous visits, and those where I've traveled to other cities are generally a bit more planned.  I definitely have some favorite store articles:  The Harvard Yard Starbucks, a flagship store in Cambridge, Massachusetts, is stunning.  The design of the Terry and Republican Starbucks in Seattle is unique, and the high ceilings make the store feel huge.  The University Village Starbucks has a Clover, and the store itself has a lot of Starbucks history, given that it was the second company-operated store ever.  (Store number 302).  It is also the location of the current in-store baking test.  The Clover Starbucks on 15th Avenue East in Seattle is one of the few Starbucks stores anywhere in North America that operates with a manual espresso machine.  If you want some of the earliest launch history of the Clover, this blog post, now two and a half years old, talks about the Clover when it was first launched.  Oh yes, and in Park Ridge, Illinois, you'll find a friendly Clover store with an ATM machine in the store!
Related posts