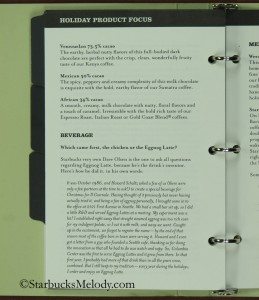 Did you know that Starbucks has offered the eggnog latte every year since October 1986?  I found a short story inside some  in-store training materials (dated 2005)  about the initial launch of the eggnog latte, and I thought it would be fun to share that here.  One thing we learn is that the very first Starbucks to offer the eggnog latte was the Columbia Tower Starbucks, which is located inside Seattle's tallest building, the Columbia Tower (and which was once called the Bank of America Tower).  The entrance to the Columbia Tower Starbucks is on the corner of Fourth and Cherry, and it's between the streets Columbia and Cherry in downtown Seattle.  Without further delay, here's the eggnog latte story:
Starbucks very own Dave Olsen is the one to ask all questions regarding the Eggnog Latte, because he is the drink's inventor.  Here's how he did it, in his own words:
It was October 1986, and Howard Schultz asked a few of us (there were only a few partners at the time to ask!) to create a special beverage for Christmas for Il Giornale.  Having thought of it previously but never having actually tried it, and being a fan of eggnog personally, I brought some in to the office at 2121 First Avenue.  We had a small bar set up, so I did a little R & D and served Eggnog Lattes at a meeting.  My experiment was a hit!  I established right away that straight steamed eggnog was too rich even for my indulgent palate, so I cut it with milk, and away we went!  Caught up in the excitement, we forgot to register the name – by the end of that season most of the coffee bars in town were serving it!  Howard and I even got a letter from a guy who founded a Seattle café, thanking us for doing the innovation so that all he had to do was watch and copy.  So, Columbia Center was the first to serve Eggnog Lattes, and it grew from there.  In that first year, I had probably had more of that drink than in all the years since, combined.  But I still keep to my tradition – every year during the holidays, I order and enjoy an Eggnog Latte.
By the way, if you like Starbucks history lessons, there are a few more of them here.
(For those of you who do not know who Dave Olsen is, you can read quite a bit about him in Pour Your Heart Into It.  He came to Starbucks at a time when it was a tiny business in the early 1980s, and he brought with him great espresso expertise from a coffeehouse called Café Allegro, which  is Seattle's oldest coffeehouse, dating back to 1975.  Dave Olsen is also credited with blending and perfecting Starbucks' Espresso Roast, which is still used today at every Starbucks.  Pour Your Heart Into It also covered that history of Howard Schultz starting his coffee company called Il Giornale, which ultimately was merged into Starbucks when he bought Starbucks in 1987.  I guess technically, the eggnog latte is a Starbucks tradition since 1987, but I'm fine with calling it 1986, since Il Giornale merged into Starbucks.)
I think it is interesting that the eggnog latte was originally offered in October, but now it is a drink that usually launches in November of each year.  (I think anyways!) We're just a few weeks away from eggnog lattes!
Feel free to comment about this or anything festive and holiday-related at Starbucks. 🙂
Related posts