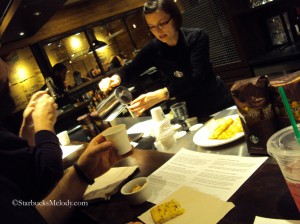 Tonight (1-30-2012), I got a chance to attend a coffee event for the launch of this year's Casi Cielo, a Starbucks tradition since 2004.  This is truly a fantastic coffee, and I really feel that this year's offering is even better than last year's!  It tastes like it has been roasted a little richer, yet it still retains the classic medium notes typical for a  coffee from Guatemala.
Before I go any further talking about the coffee tasting event, I want to recommend to my readers that if you have a chance to visit this store, and attend one of these events, you should!  The Olive Way Starbucks schedules coffee tastings every other week, and they are generally on Monday nights.  You should call ahead to the store, and pencil yourself in for a coffee tasting.  It's free of charge, and gives you a chance to explore a new coffee that you might want to take home with you.  Their phone number is 206 568 5185.
The store often tweets about their coffee events, so follow them on twitter too:  Olive Way Starbucks
As you can see, I gush a bit when writing about this store.  And my heart loves Casi Cielo.  In January 2008, it was the first cup of coffee that I ever had from the Clover, so this coffee holds a special spot in my love of coffee!
Starbucks partner Jess, (who is a Coffee Master in training) walked us through the four steps of a coffee tasting, and paired Casi Cielo with four different food options.  First we smelled the coffee.  Our little group included about 5 people in the coffee tasting, and most everyone got right away the notes of dark chocolate.  I feel like this year's Casi Cielo is a little buttery-er than last year's, and felt like some of that came through in the aroma.  This year's Casi Cielo really pairs remarkable well with either chocolates or nice savory foods, too.
(For those who need a reminder about the 4 steps of a coffee tasting, as Starbucks describes it:  (1) Aroma – Smell the coffee (2) Slurp – aerate the coffee in the mouth and slurp the coffee.  It's okay, and in fact encouraged, to slurp loudly!  (3) Locate the coffee in the mouth – Where do the flavors hit? and (4) Describe all that you're tasting.)
We tried four foods with this coffee:  Almonds, Mediterranean Feta & Pepper Flat Bread, Chocolate Covered Cherries produced by Chukar, and lastly, Beecher's Beehive Barely Buzzed Cheese.
The first pairing was almonds with Casi Cielo.  The almonds we tried are  available at all of the beer and wine Starbucks (or, at least they should be) and are described as Salted Marcona Almonds.  The beer and wine Starbucks stores have special additional foods described as, "elevated food offerings."  One person in our group described the almonds as really creating the effect where you get a nutty start to the coffee at the tip of the tongue, but finishing with a smokey finish in the back of the mouth.
Here's a picture of the cheese, almonds, and chocolate-covered cherries, and I also included a photo of the menu board listing the store's unique food offerings.  The cheese and chocolate-covered cherries are not part of the store's "elevated food offerings."
I really loved the Mediterranean Flat Bread with the Casi Cielo.  For one thing, it's such a delicious offering available at this store!  One more reason to get yourself to this store.  I thought this year's Casi Cielo really comes to life with the savory pairings, with even the salt bringing out the body and the flavor of the coffee.  Here's a picture of the store's Flat Bread: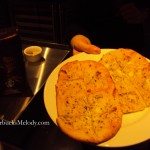 When we tried the Chukar Cherries, a number of people sitting around me commented that the cherries brought out some lemon notes in the coffee.  Now, I will have to admit that I was having some difficulty picking up enhanced lemon flavors, but I did wish I had the entire bag of chocolate covered cherries to myself. 😉  (What I am trying to say it that Casi Cielo has some lemon notes to it, and I got that, but for me I didn't get a huge enhancement of the lemon flavors.  However, it seemed like everyone else around me did, so I think my tastebuds were a little off!)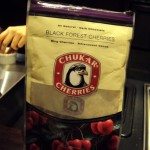 As we talked about this coffee, Jess made the observation that Casi Cielo works as a great shot of espresso.  I have to totally agree with that.  The experimental Starbucks called 15th Avenue Coffee and Tea (or it was called that at least) briefly used Casi Cielo to pull their shots, and so having tried it as a shot, I totally agree that it makes a fantastic espresso.  I think this year's especially would be a perfect change of pace if you're looking for something new to use as your home espresso.
I know I haven't talked much about the cheese pairing, but that was good too.  I felt that the cheese brought similar flavors to the coffee similar to the Mediterranean Flat Bread.  It was a moist cheese, and highlighted and strengthened the buttery components to Casi Cielo.  Still, somehow I liked the Flat Bread option a little better.
By the way, I took this photo shortly before the coffee event started, and while it doesn't highlight any of tonight's happenings, I like the casual atmosphere of the bar area (which is always the place for the coffee events) at this store: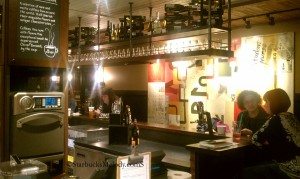 So here are a few more pictures from tonight, many of which are to show off the beautiful store design.  Thank you Jess, Anton, Mikey, Gayle, and everyone at the Olive Way team!  This store really has thrown their weight behind making sure that coffee excellence is part of what they do. If you want to read about other events at this store, take a look at the Anniversary Blend Coffee Tasting (the "butter" tasting), the Aged Sumatra and Ethiopia Harrar coffee event, and the blonde roast launch media event.
The address is 1600 East Olive Way, Seattle, WA, 98102.  Once again, the phone number is 206 568 5185.
Related posts