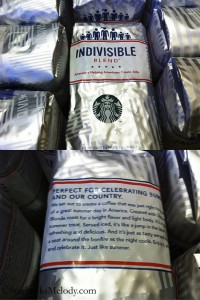 Indivisible Blend is coming to Starbucks on June 12, 2012.  It's an all new coffee blend, and roasted to a Blonde roast profile.  So this is the third Blonde coffee to be offered, as the first two were Willow Blend and Veranda Blend.  Indivisible Blend is a blend of washed Kenya and Ethiopia coffees and is said to have floral notes.  (Actually, I should  clarify that when I asked partners about what is in Indivisible Blend, I got a variety of answers.  All I can say for certain is that it is a blend of East African coffees.)
There are so many great things to say about this coffee.  First off, for every bag purchased, Starbucks will donate $5.00 to the Opportunity Finance Network, which is an organization partnered with Starbucks to help create jobs.  There is a lot more information about this partnership at the Create Jobs For U.S.A. website.   Follow Opportunity Finance Network on Twitter here.  A one pound bag of Indivisible Blend coffee retails for $14.95.  The Create Jobs For U.S.A. partnership first launched last November with red, white, and blue bracelets available inside Starbucks.
I've actually tried this coffee three times.  At several different stores, partners said to me, "Melody, have you tried the new Indivisible Blend?"  I've had it pressed in a French press, through the Clover, and prepared as an iced coffee on the Clover.  I'm totally surprised at how much I like it.  The French press, since it retains the most oils, created a really lovely big complex juicy flavor, and I had to remind myself that it is a Blonde roast.  If someone had told me that it was just a very light medium roast, I probably would have believed it.  This is an incredible coffee iced.  Absolutely incredible.  Iced on the Clover brings out a ton of grapefruit-y notes for me.
What do you think?  I am definitely giving this one two thumbs up!
Related posts